Enermax has launched a new MAXPRO range of power supplies. These are said to offer the same reliable, durable and stable operation as their predecessors but perform even more quietly. The new range is also designed to be just 14cm deep so will fit in more tight spaces such as a wide selection of small form factor chassis.

The new power supplies, available in 400, 500, 600 and 700 wattages, are all 80 PLUS certified and offer an 87 per cent peak efficiency. They meet the latest EU eco-design directive ErP Lot 6 2013 by consuming under 0.5W in standby mode if paired with a compatible motherboard. They also can run with an average 85 per cent efficiency at 20 to 50 per cent load which is important as you probably won't be running your system at full pelt all the time. If you do need to have your system running constantly Enermax rates these PSUs to offer "non-stop industrial class performance at 40°C/104°F ambient" temperatures. The use of high-quality components including a first-class Japanese 105°C electrolytic main capacitor contribute t the PSU durability.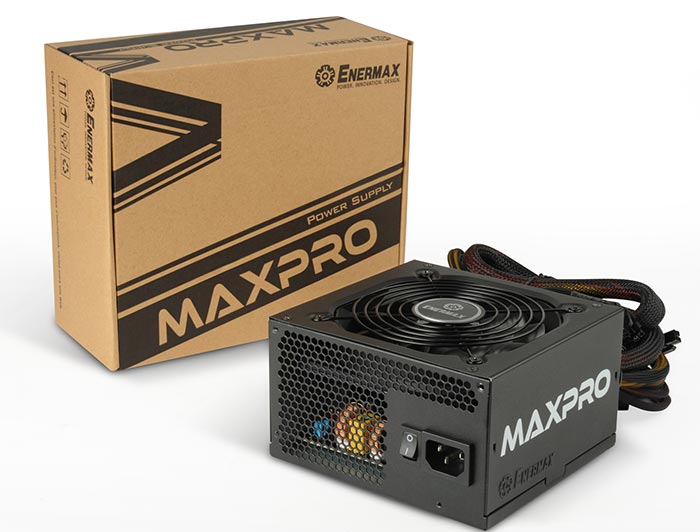 Enermax calls the new range "the next long runner generation," as it says that the previous model was known as a PC component that often survived from PC build-to-build. As a modern PSU it offers a good range of 8-pin PCI-Express connectors and a "massive 12V rail," to ensure a stable power supply for high-performance and gaming PCs. This Intel ATX12 v2.3 supporting PSU supports Intel C6/C7 energy-saving functions and, depending on model, offer two or three 6+2(8)P PCI-Express connectors for high-end GPUs and multi-GPU setups.
The largest inter-generational improvements are in the quieter operation, according to Enermax. Its engineers have implemented a new fan control system and a patented Twister Bearing 12cm cooling fan. This is said to spin at just 500rpm and is 'virtually silent' at up to 50 per cent PSU load. At higher loads the fan can go up to 1500rpm but won't emit any annoying mechanical noise due to its 'Twister bearings'. A quiet 'AirGuard' inlet design minimises noise of air intake and 'HeatGuard' spins the PSU fan an extra minute after shut down to help it cool ambiently later on. One more 'guard' called 'SafeGuard' protects the PSU and components from over-current, over-voltage, over-power, short circuits and power surges. A three year warranty is offered with all the PSUs.

These new power supplies are available now except for the 700W model will be sold from mid-April. Prices of the 400, 500, 600 and 700W supplies including tax are 49.90, 59.90, 67.90 and 79.90 Euros respectively.