Specialists in power supplies and cooling, Enermax lived up to its company image at CeBIT 2013 by unveiling a couple of PC-centric products at the show.
Starting off with cooling and built on the underpinnings provided by the ELC120 cooler that's available right now for around £70, Enermax feels as if there's sufficient scope in watercooling to persist with its range.
Due to be released in Q3 of this year, the T1209 uses the same type of quad-shunt channel technology in the cold-plate but has improved the flow and heat-dissipating abilities further in this model, the company says. The T1209 promises to be quieter, too, with an improved pump, though we'll only know for sure once it is released. Here's Benjamin from Enermax running through the key features
Loading...
Been waiting a while?
Get Flash
to see this player.
The problem that most all-in-one watercooling manufacturers have is in persuading the enthusiast to forego the simplicity of an air cooler. What's more, premium heatsink-and-fan units tend to have performance that rivals these all-in-ones. Enermax says that the real worth of the T1209 will only be realised once a system is generously overclocked, inducing localised CPU heat spots that are difficult to deal with when using conventional cooling.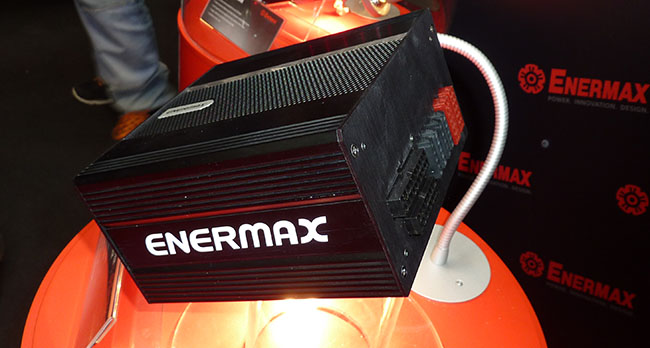 Building on its PSU heritage, Enermax also showed a demonstration unit of an upcoming power supply. It's special insofar as the 550W/650W models are completely fanless - a first for the company. They use the guts from a current Platimax model though the PCB is heavily tweaked for fanless operation. Taking the best of both worlds, the company says, it uses a chassis design that incorporates both an aluminium heatsink and venting area for maximum heat dispersion. The innards and chassis heat-dissipation ability are good enough that it never runs hotter than 50C, apparently.
We like the idea of a high-quality, modular supply that is silent. Rated at Platinum on the 80 PLUS scale, thereby producing little heat, making it an obvious fit for fanless running, the stumbling block to adoption is due to be price. Enermax says the 650W model will cost around £170 when released in Q3.