Enermax's exciting bits

Enermax's exciting bits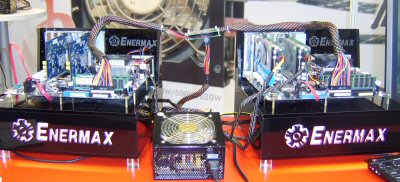 Mirror image? Not quite. It's a special Enermax's top-of-the-line Liberty 620W PSU powering two reasonably high-end (multi-GPU) systems concurrently. It's ATX12V v2.2 compliant, meaning that it has split rails on the 12V line which should provide more stable current to the CPU, motherboard, graphics card(s) and drives. The 620W model is rated to provide 432W on the 12V rails, enough for all but the nuttiest machines.

The Liberty series of PSUs has eight modular sockets that can be connected to the components in whichever way you wish. The 620W model ships with connectors that provide a total of 10 SATA plugs, 10 molexes, two PCIe (six-pin) plugs and a single FDD connector, in addition to the main 24-pin and +12V connectors.

Warp series fans

Enermax was particularly keen to highlight its Warp series fans that use Enlobal bearings with magnetic-barometric designs for friction-free running. Look at the picture below to see exactly what we mean.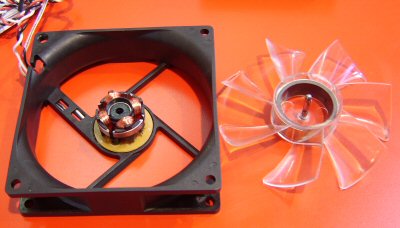 The detachable fan blades can be removed and cleaned. Enermax quotes a noise-level rating of 32dBa for its 80mm fan spinning at 2,800rpm and producing 44.8CFM. A quick spin of the blade highlighted the smooth running.