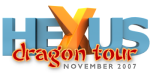 Popping on by ENERMAX's headquarters in the industrial town of Taoyuan, Taiwan - Joerg Theissen, global marketing chief, pictured left, had a few nuggets to share with the HEXUS crew.



Pushed on just how the current range of INFINITI and Liberty power supplies could be improved, here's a sneak peek at what ENERMAX will be showing at CES 2008.

The differences are hard to spot, granted, but the as-yet-unnamed PSU features a new casing that's designed to aid airflow into the internals. Look at the casing by the fan-grille screws and you'll note that it's curved towards the components. ENERMAX dubs this AirGuard and reckons that it reduces fan noise by a few decibels when compared to existing models.

The new PSUs will also feature a wider range of connectors and an improved fan-control logic, allowing speeds of just 400RPM when under insignificant load and, as a consequence, aiding quietness, Joerg mused.





This innocuous-looking fan is part of ENERMAX's burgeoning fan range. The 80mm Inferno model features TWISTER magnetic barometric bearing technology that, it is claimed, can operate at 85°C with a 100,000 MTBF. Additionally, the removable fan features a slight kink in the blades, dubbed BATWING, that promises 30 per cent extra airflow for a given fan-speed when compared to traditional models. Useful if internal temperatures are rather toasty in your chassis, we suppose.