Microsoft will roll out the Windows 10 Creators Update early next year. When this OS update was announced Microsoft said it would deliver "3D for everyone". Users would be able to view, capture, create and share 3D. To make the most of the extra dimension Microsoft and hardware partners will be introducing a range of VR headsets starting at $299.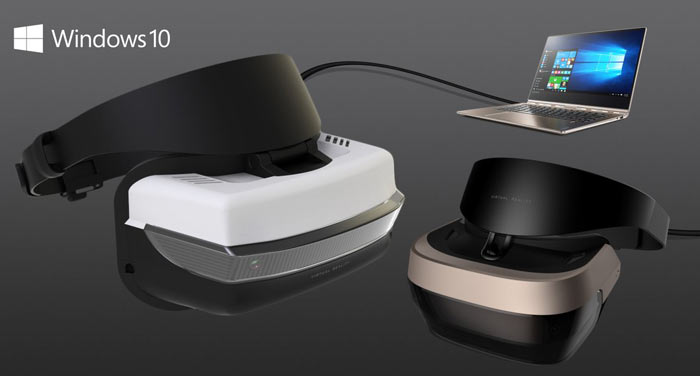 PC-based VR systems are currently quite demanding of hardware, particularly of GPUs. The recommended system spec for powering an Oculus Rift includes an Nvidia GeForce GTX 970 / AMD Radeon R9 290 or better. Recommended GPUs for enjoying the HTC Vive are the Nvidia GeForce GTX 1060 / AMD Radeon RX 480, or better. Microsoft will make VR more accessible thanks to its lower entry standard.
The Verge discovered the rather low recommended system specs for Windows Holographic via a tool included in the latest Insider builds of Windows 10. The 'Windows Holographic First Run' application tests your PC system to ensure it will be compatible with HoloLens AR and VR experiences. After it has run, the app displays an info screen of 'compatibility results' telling you what, if anything, needs to be upgraded. See the screenshot from The Verge below: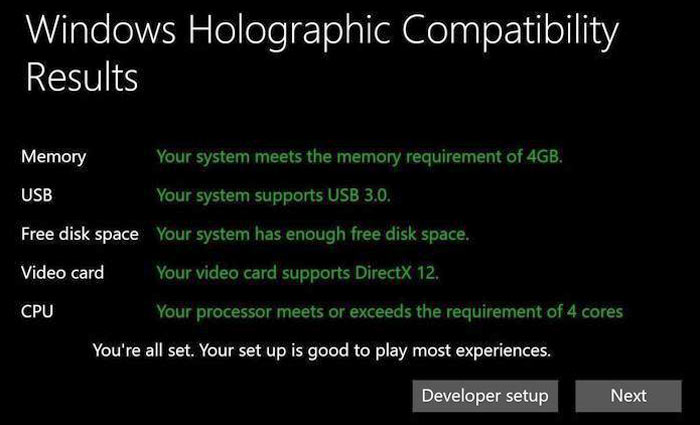 So the minimum requirements seem to be:
4GB of RAM,
A USB 3.0 port,
Spare disk space,
A GPU that supports DirectX 12,
A CPU with 4 threads or more.
Note that the results screen includes a 'get out clause' of sorts, saying that your PC is "good to play most experiences" if it passes. The experiences you can play, with an integrated DX12 compatible GPU for example, likely won't be the graphical VR feasts that attract users to the Rift and Vive. However, Microsoft might come out with a different VR-ready test for gaming experiences, a lot is unknown at this stage.