Microsoft launched the newest member of its Surface family, the Surface Studio AiO, late last month. Alongside the impressive large screened AiO PC Microsoft showcased an intriguing input peripheral, the Surface Dial. We only got a few glimpses of the possibilities the Surface Dial presented but yesterday Microsoft uploaded a quintet of YouTube videos to give us a more in-depth app-specific rundown of what the Surface Dial is capable of.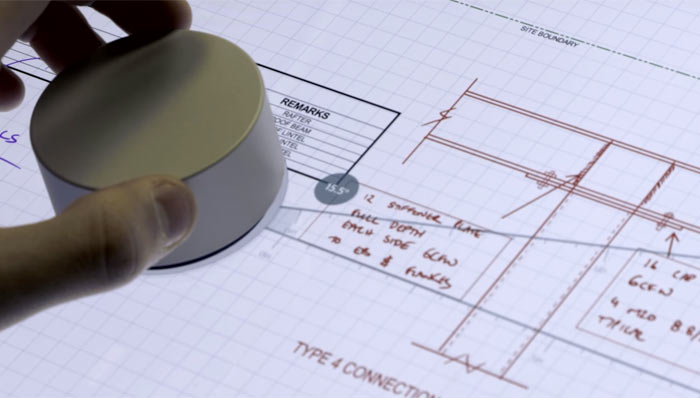 Adjusting an angle in a construction drawing
In the videos below you will see various apps, covering graphic arts, illustration in 2D and 3D, document editing, engineering and architectural design, and even writing and editing musical compositions.
Throughout the videos you can see how natural, intuitive, yet process accelerating the Surface Dial can be. Don't forget that it will be useful beyond these specialist apps with its radial menus and adjustments (on or off screen) useful in the upcoming Windows 10 Creators Edition OS. Furthermore, standard Office programs like Word, PowerPoint and OneNote, plus Windows Maps, Microsoft Photos, Paint, Groove Music and Spotify will make use of the Surface Dial, if you have one.
Microsoft has published a new overview video too, Windows App Partners speak about producing for the Surface Studio and Surface Dial here.