Huawei may not be the first name you think of when considering premium smartphones yet the Chinese goliath is on a mission to muscle in on the territory currently occupied by Apple and Samsung.
And goliath is no hyperbole when describing the company. Headquartered out of Shenzhen, China, Huawei employs over 170,000 people, is employee-owned - 99 per cent of the private company is in the hands of the workers - and has revenue of over $60bn last year, of which around 40 per cent emanates from the Consumer Business Group (CBG) in charge of smartphones and tablets.
Huawei's main smartphone strength rests with dominating the Chinese market, with over 20 per cent market share. Total global smartphone shipments hit 108m last year and are projected to surpass 140m this year, and the company sees significant growth opportunity in the premium handset space and non-Chinese market. This strategy makes sense if it is to become closer to Samsung (321m) and Apple (231m) in the overall annual smartphone shipping stakes.
A key thrust for gaining high-end market- and mind-share is in releasing premium smartphones that rival what's available from the two bigger players. Until yesterday, Huawei's flagship phone was the P9 Plus - a big-screen, dual-camera offering. This, arguably, is changing today with the announcement and full reveal of the Huawei Mate 9 at a press conference in Munich, Germany. We managed to get some hands-on time at a pre-event briefing in London last week.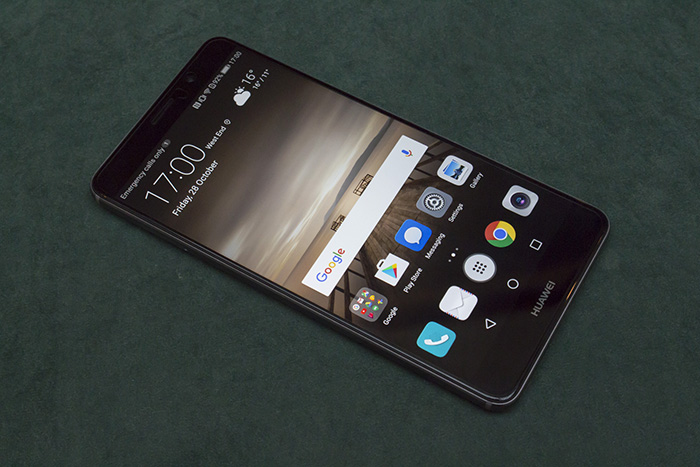 In common with the industry, there's very little to differentiate the incumbent Mate 8 and the new head honcho. The Mate 9, available in five colours, carries the familiar look and feel of its predecessor and is about the same size, coming in at 156.9mm tall, 78.9mm wide, 7.9mm thick, and 190g in weight. This puts it in the same league as the iPhone 7 Plus and just a bit bigger than the Samsung Galaxy S7 Edge.
Build quality is excellent on this phablet. The full-metal unibody construction is suitably premium, and while the back has no obvious texture to aid grippiness, it feels good, albeit naturally big, in your hand. That size is put to good use with a near-edge-to-edge display that measures 5.9in and packs in a full-HD display that uses IPS technology rather than AMOLED. The sample model's screen was bright and easy to read. Did we wish for a higher-resolution panel? Yes, though it would likely push the price up from the estimated off-contract £429 or so - Huawei has yet to reveal the cost.
In fact, you wouldn't know this was the all-new Mate 9 on first glance and that may not be a bad thing as keeping brand identity seems to be taking on more importance.
Huawei keeps the familiar 'drain' on the bottom, sitting on either side of the USB Type-C charging inlet, and it's a necessary evil in order to keep the handset cool under peak load.
Moving around, the dual-SIM-supporting Mate 9 continues to have a regular headphone jack and an 8MP front snapper, albeit slightly improved over its predecessor. Inside, Huawei uses the same 4,000mAh battery as the Mate 8 and that should mean class-leading longevity when running everyday applications.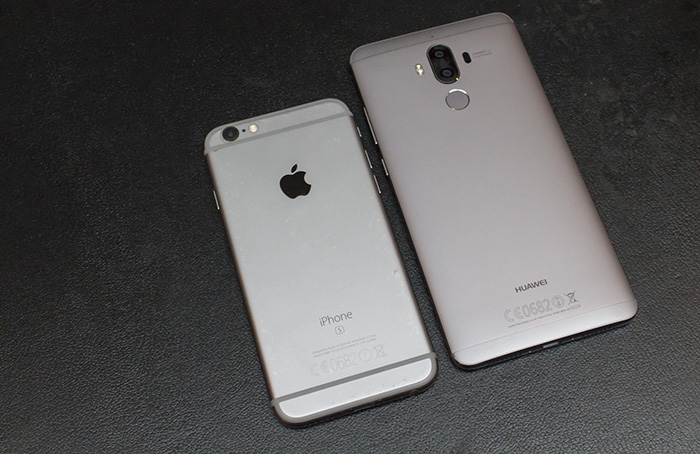 On the back, the Mate 9 houses a Leica 20MP monochrome and 12MP RGB camera, 4x optical zoom, though it is not clear whether Huawei is using telephoto to achieve this. There's additional support for 4K video, as well. In concert with the new release, Huawei is incorporating a new iteration of its Emotion UI, now version 5.0, interface that sits on top of Android 7.0. And carrying on familial design, the fingerprint scanner is situated just underneath.
Getting juice quickly back into the battery is now a selling feature; the Mate 8 charges by using a 9V/2A technology that provides full charge in 2.5 hours. Mate 9 adds to this by bundling a special voltage-sensing (5V/4.5A) charger capable of dynamically adjusting its voltage for, well, safety reasons - Galaxy Note 7 poke, anyone? The result of more watts into the phone? Huawei says users can enjoy a 'full day's' charge in 20 minutes while just 10 minutes provides enough juice for watching two HD movies.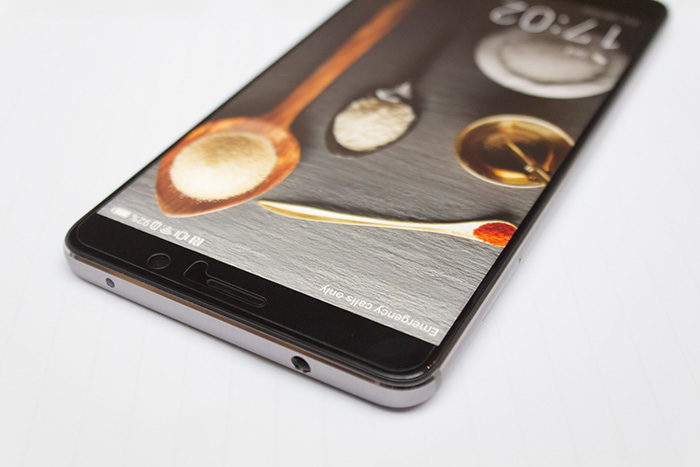 As standard, the Mate 9 shoehorns in 64GB of storage and is supported by 4GB of LP-DDR4 memory. A microSD slot remains a welcome addition for those that need on-device space.
The biggest change, as you might imagine, comes under the hood. Last year's Kirin 950 system-on-chip (SoC), made by Huawei subsidiary HiSilicon, has been improved with the Kirin 960. A numerical increase doesn't sound like much of an enhancement, yet as a certain fruity company likes to say, the only thing that has changed is everything.
Kirin 960 - the new brains
The SoC is the one of the first to use a quad-core Cortex-A73 CPU from ARM. Designed specifically to offer better sustained performance than its predecessor whilst also adding a little more punch, the frugal nature of the most potent ARM CPU core to date should allow HiSilicon to repurpose precious TDP savings elsewhere. The Cortex-A73 is augmented by a quad-core Cortex-A53 in a big.LITTLE configuration. What's more, the Mate 9 adds a low-power companion chip, identified as i6 (based on ARM Cortex-M7) for low-power, always-on features such as GPS and, dare we say, Pokemon hunting.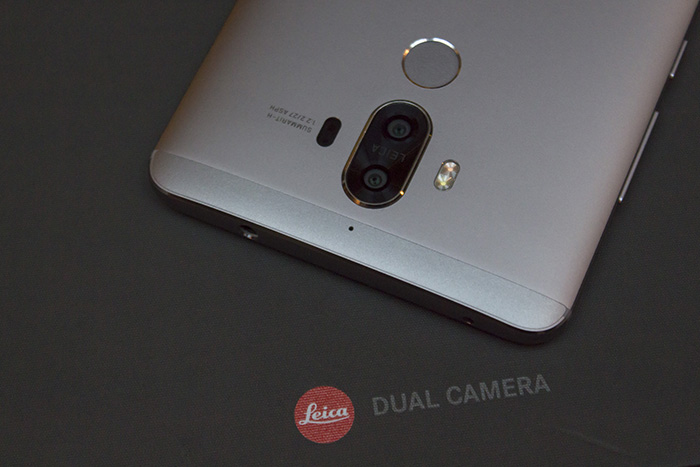 Another key driver of the Kirin 960's performance is with the very first implementation of ARM's all-new Mali-G71 graphics core. Using a brand-new, grounds-up architecture and offering 20 per cent higher efficiency and up to 40 per cent better performance density than the Mate 8's Mali-T880, the eight-core graphics chip, which fully supports the Vulkan API, appears to at least match the very best on offer elsewhere, though we will know more once we have a handset in-house.
We asked Huawei executives why the reliance on ARM when HiSilicon owns an architectural license and can therefore design its own CPU cores for better performance. Apple, as you will know, has gone down the custom CPU route for years and now incorporates a modified GPU to its own specifications.
Huawei was keen to point out that off-the-shelf ARM IP is good enough for the CPU and GPU, particularly with the latter using the innovative Bifrost architecture, so it made sense for the engineering team behind the Kirin 960 to focus more on the value-adds such as improved image signal processor (ISP) and super-fast storage by way of Universal Flash Storage (UFS 2.1), replacing long-used eMMC. Huawei said that the speed increase for UFS 2.1 will be most keenly felt when recording or moving 4K video around.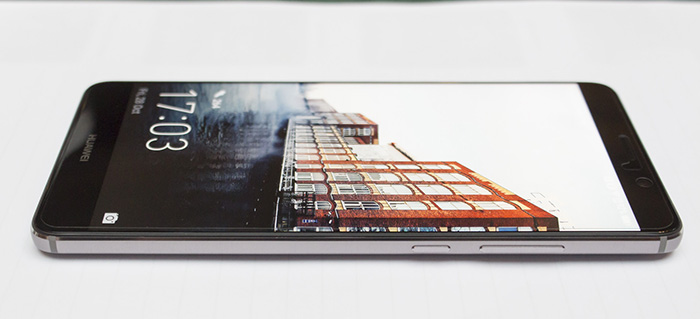 Mobile phone SoCs destined for premium phones need high-quality modems as standard. Kirin 960 employs an in-house LTE modem boasting Cat 12 download and Cat 13 upload, meaning that, on paper at least, it is a good match for the best that Qualcomm and Samsung have to offer.
Remember we spoke about the Mate 9's new cameras? The ISP contained within the Kirin 960 now has a built-in sensor to aggregate more depth information than ever before. The key advantage to this is that pictures can be refocused after they have been taken - a neat trick that comes by way of having more scene depth - and better low-light performance. Stressing the last point, Huawei had a demo where it favourably compared the low-light credentials of the Mate 9 to an iPhone 7 Plus camera. Speed, too, should be improved as all computation is done on the SoC itself.
There's also improved audio from a Hi6403 chip as well as better security, ostensibly aimed at the Chinese market. And while ARM is the go-to partner for the CPU and GPU, Huawei uses a custom encoding/decoding engine for processing at up to 4K30.
Overall specifications suggest that the Kirin 960 SoC houses a thoroughly modern collection of technologies that put it at least on a par with premium, available offerings from Qualcomm and Samsung. The goalposts may shift a mite with the release of their next-generation SoCs soon, yet we feel confident that Huawei has a solid proposition from both hardware and software with the Mate 9. Check back for the full device and SoC review soon.