All we officially know about the Oculus Touch controllers' availability is that they will arrive in H2 2016. That is stated on the above linked product page, and was also indicated in a blog post last December. Now, thanks to a slip up by the web team at large European electronics retailer Media Markt, it looks like Oculus may make the controllers available from 21st November. Furthermore, the premature listing came with a price: €199 inc tax.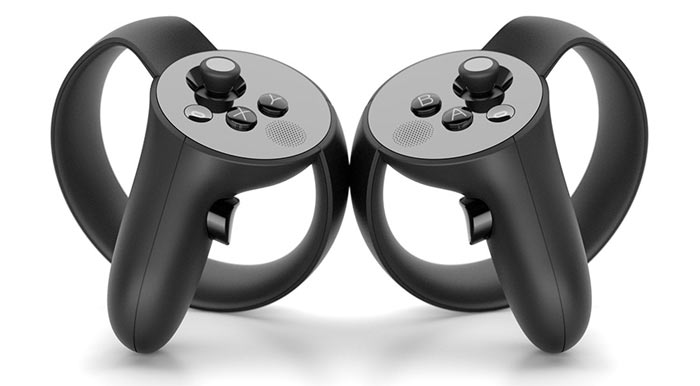 Media Markt has now taken down its Oculus Touch online retail listing but luckily for us VRTech had already screen grabbed it. You can see the screen grab below, which provides the pricing, availability date, and a smattering of basic specs.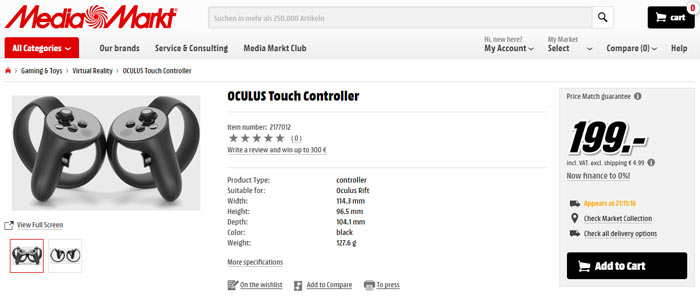 As a reminder, the Oculus Rift headset is coming to retail in Europe and Canada in 11 days time (20th September). Here in the UK it will be available at Amazon.co.uk, John Lewis, Curry's PCWorld, GAME, and Harrods. In Germany one of the three official distributors is Media Markt.
With the suggested retail price of the Oculus Rift HMD in Europe at €699 (£549 in the UK), add in the Oculus Touch controllers price and you are basically at €899. Competitor VR system the HTC Vive, which is bundled with VR controllers as standard, costs €899 in Europe (or £759 in the UK, $799 in the US). If Oculus bundles its new Touch Controllers with the Rift then it should be possible to undercut the HTC Vive price, by say €50, as it could remove the Xbox One controller from the pack.