Intel CEO Brian Krzanich unveiled Project Alloy, an all-in-one virtual reality solution, at the 2016 Intel Developer Forum in San Francisco yesterday. Referring to it as the "future of merged reality," this new head-mounted device offers untethered, immersive, self-contained VR and AR experiences powered by Intel RealSense technology.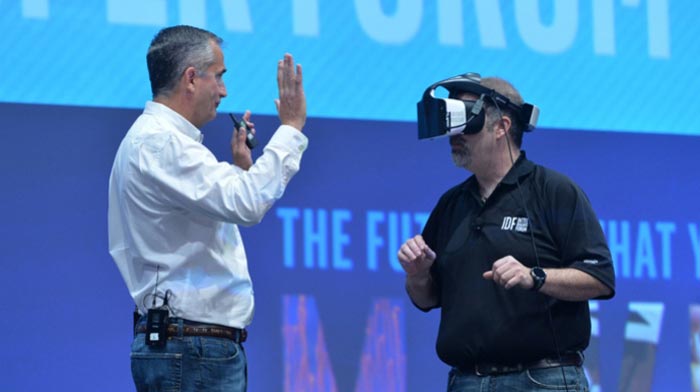 The Intel Project Alloy headset doesn't require an associated smartphone, PC, power cables, or external sensors – everything required is in the headset and it is completely wireless. The headset was briefly demonstrated on stage at the IDF. In the demo an Intel's Craig Raymond walked around the stage and navigated a virtual room. In the VR room he opened a door using hand movement/interaction. Then he walked back to Mr Krzanich, and the CEO's face appeared in the mixed reality environment so he didn't walk into him…
As mentioned in the CNet produced video above, Project Alloy is a reference design that Intel will provide to other manufacturers. The first products based on the design aren't expected until sometime next year. Unfortunately there is not much information available about the hardware. We know the headset contains a pair of RealSense cameras to track the real-world, just like the rhino horn add-on for the HTC Vive we saw teased recently. However it would be more interesting to find out about the CPU, GPU and battery life of the Project Alloy reference design.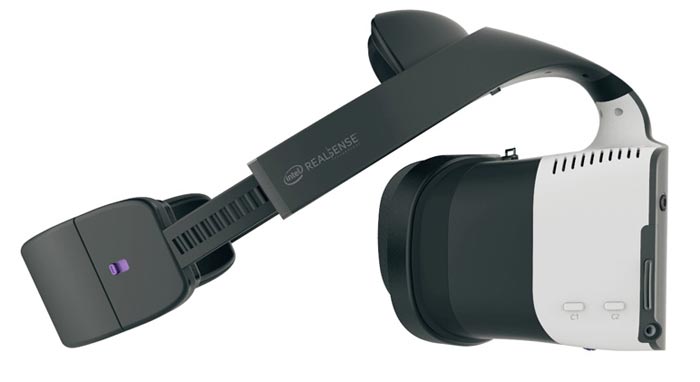 Windows Holographic
In related news Microsoft announced it is collaborating with Intel "on a specification for mixed reality ready PCs and head mounted displays (HMDs)." It intends to help make a standard for hardware/software developers which will be released and supported by Mainstream PCs powered by Windows 10 next year.
The core application using the AR/VR hardware will be the Windows Holographic shell. This program "enables an entirely new experience for multi-tasking in mixed reality, blending 2D and 3D apps at the same time, while supporting a broad range of 6 degrees of freedom devices". Below is a video of a Windows 10 holographic UI experience, running on an HMD tethered to an Intel NUC providing 90fps.