Microsoft is at Computex and has made a number of announcements about software and hardware. Of course the focus of the corporation is on Windows 10 and the devices that are coming out with Windows 10 pre-installed, but there's also been a concerted push to promote Windows Holographic which Microsoft sees as "the future of computing".
The mixed reality vision that Microsoft is promoting and demonstrating with its HoloLens system needs to be more widely adopted and Microsoft plans to make this happen by opening up to hardware partners such as Intel, AMD, HTC, Acer, Asus, Dell, HP, Lenovo, MSI and many others. We have seen various HoloLens demos over recent months and learnt about the positive experiences it can offer, and some of its limitations. Hopefully some of these limitations will be reduced with these big name tech companies putting muscle behind Microsoft's tech.
To further its augmented reality computing vision Microsoft announced that "Windows Holographic is coming to devices of all shapes and sizes from fully immersive virtual reality to fully untethered holographic computing. Today we invited our OEM, ODM, and hardware partners to build PCs, displays, accessories and mixed reality devices with the Windows Holographic platform."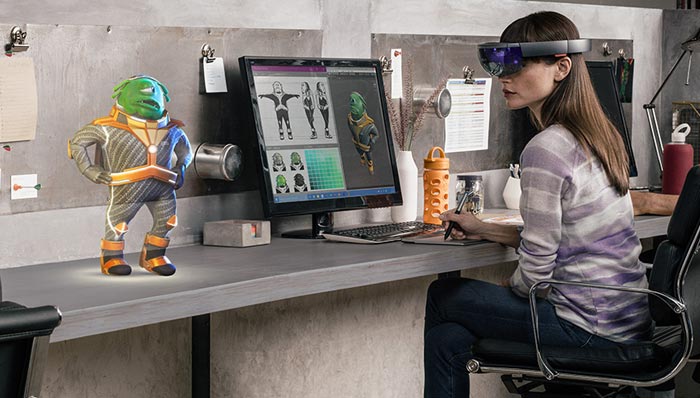 Already the first hardware to support Windows Holographic, the HoloLens, can make use of a holographic shell and interaction model, perception APIs, and Xbox Live services. Note that "all holographic apps are Universal Windows apps, and all Universal Windows apps can be made to run on the Windows Holographic platform". Some early adopters of the tech include the likes of NASA, Volvo, and Lowe's DIY stores.
The first fruits of the opening up of Windows Holographic to partners should start to ripen in time for WinHEC in Shenzhen and Taipei this autumn, we hear.
Windows 10 devices at Computex
In another interesting post on the Microsoft Blog, the firm looks over some of what it considers to be the most innovative and compelling products revealed at Computex thus far. It highlights the slim and light new Asus Zenbooks, Acer 2-in-1s, a new 17-inch 2-in-1 machine from Dell, HP Omen gaming gear, MSI's VR backpack PC, and offers a sneak peak at a Porsche designed Windows 10 2-in-1 device (see below). Head over here to read more.