Microsoft has patented an updated 'TrackPoint' style cursor control system for inclusion in its Surface Book computers. The U.S. Patent and Trademark Office published the patent last week, showing a next-gen take on the IBM / Lenovo TrackPoint idea. In this modern version, the trackpoint pad offers up the possibilities of being a finger print reader and isn't just clickable but offers pressure sensitivity for 'Force Touch' style interactions.
The TrackPoint has some diehard fans, especially amongst the business/enterprise user community. Lenovo once removed TrackPoint devices from its range only to bring them back again due to demand. Microsoft would like to push its Surface Book towards volume sales to enterprises and corporates so having a 'TrackPoint' pointer option would be good for its appeal in that market.

Microsoft's patent reveals a trackpoint style device with an input sensor crowned by a gel-based body and a tactile surface for your finger. According to PatentlyApple's reading of the documents, published last week but submitted in December last year, the sensor under the gel can detect resistance, capacity, pressure, lateral position, and/or vertical position. Different layers of force can trigger different interactions.
As mentioned in the headline, the use of Microsoft's gel-based trackpoint doesn't stop with interactivity, it can be fitted with an optical lens, image sensor and a transparent pad allowing it to provide biometric access and authorisation for various aspects of your computer use.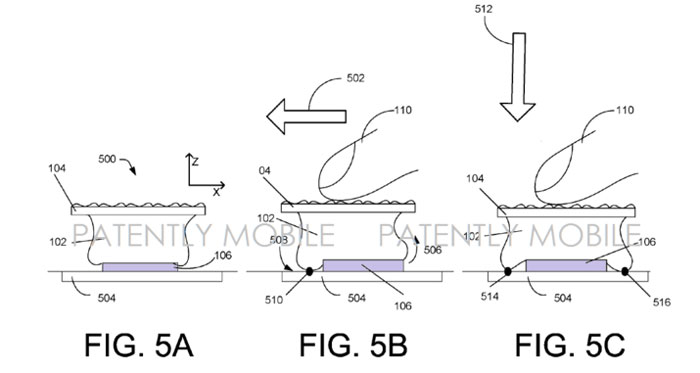 We've only seen the first iteration of the Surface Book so far. Various reports suggest the Surface Book 2 and Surface Pro 5 could to be announced to coincide with the release of Windows 10 Anniversary Update this summer, others say that we will have to wait until Redstone 2 arrives, in Spring 2017, for the new Surface devices.