SilverStone has launched a new PCI-E add-in card to provide a pair of USB 3.0 Type-A ports, plus a single USB 3.1 Type-C port for your PC. Whether you don't have access to any of these ports on an old system or just want additional ports for expansion/flexibility this PCI-E 2.0 x2 card could be a good choice for you. The expansion on offer isn't limited to the ports shown on the PCI-E card fixing bracket. SilverStone has incorporated an internal 19pin USB 3.0 connector to provide your system with two further USB 3.0 ports.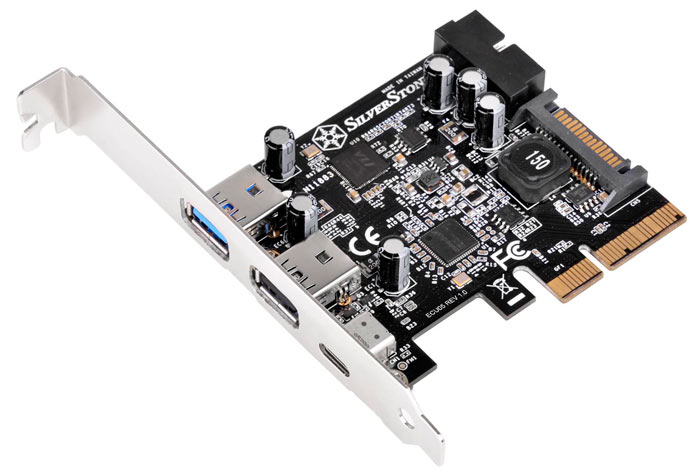 The Silverstone ECU05 offers up to 10Gbps of bandwidth via its reversible USB 3.1 Type-C port. This is twice the performance possible via either its standard USB 3.0 ports. Eagle eyed readers will have noticed that the two USB 3.0 Type-A ports are of different colours. SilverStone has colour coded them as follows:
For fast charging, the black rear Type-A port meets USB Battery Charging (BC) 1.2 standard to deliver quick and safe charging to your mobile devices.
The blue rear Type-A port is simply a standard spec port.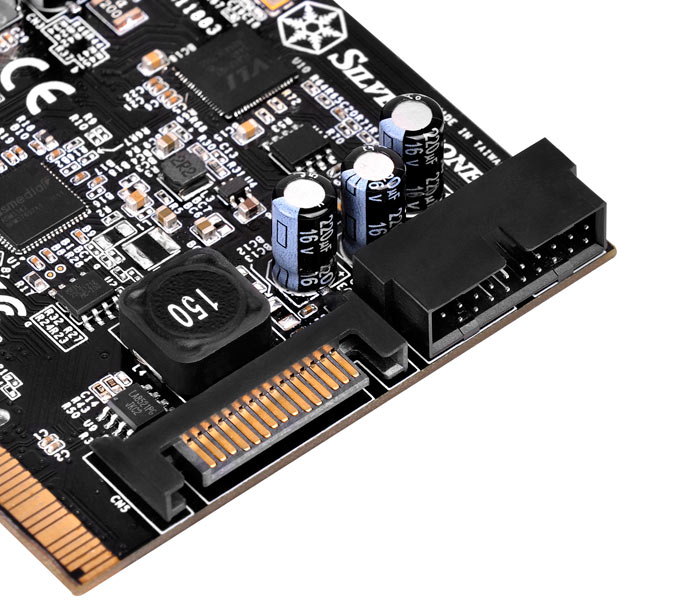 Buyers of the SilverStone ECU05 will be happy to know the card supports UASP (USB Attached SCSI Protocol) for enhanced performance, and operating systems with XHCI (eXtensible Host Controller Interface) can easily detect and install the ECU05 without the need for any drivers.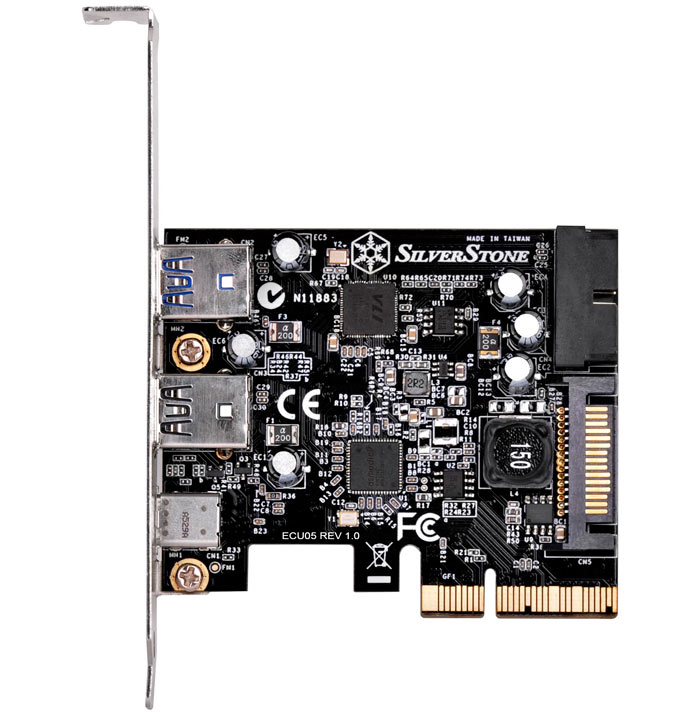 SilverStone ECU05 Specifications
Model No: SST-ECU05
Power requirement: 5V via SATA 15-pin power connector
Form factor: Low profile - PCI-E 2.0 x2 (10Gbps)
USB 3.0 controller: VIA Lab VL812
USB Ports: USB 3.1 Type-C x 1, DFP with Rp=10KΩ and up to 5V 3A, USB 3.0 Type-A x 1, USB 3.0 Type-A with charging downstream port x 1, up to 5V 1.5A, Internal 19pin connector x 1, for up to two USB 3.0 ports
Transmitting Speed: USB 3.1 Gen 2.0 (10Gbps), USB 3.1 Gen 1.0 / USB 3.0 (5Gbps), USB 2.0 (480Mbps), USB 1.1 (12Mbps)
USB 3.1 controller: ASMedia ASM1142
Power Management: Support USB 3.1 / USB 3.0 and USB 2.0 link power management
Current protection: Support over current detection and protection
Operating system support: Windows 7 (32bit/64bit [driver required]), 8/8.1/10 (32bit/64bit), Ubuntu/Linux/Mac OS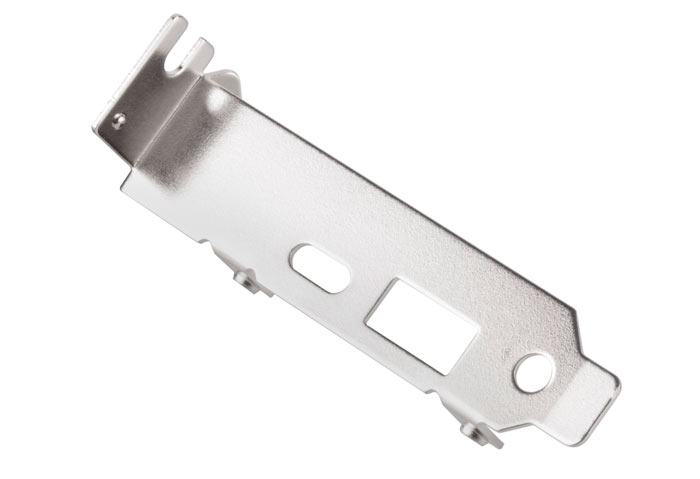 In the box buyers will receive a low-profile bracket. SilverStone hasn't indicated availability or pricing.