The price of the Oculus Rift plus the hardware required to run the associated VR applications has been speculated upon previously. Even when Oculus announced pre-orders of the Rift hardware were about to open it didn't give a price (a few hours later we found out it was $599/£499 plus shipping). Now Oculus has announced a range of 'Oculus Ready PCs', that are sold bundled with the Oculus Rift hardware, will be pre-orderable from 16th Feb onwards at prices starting from $1,499. Remember your Rift headset, even in this 'bundle', won't ship until an estimated July 2016.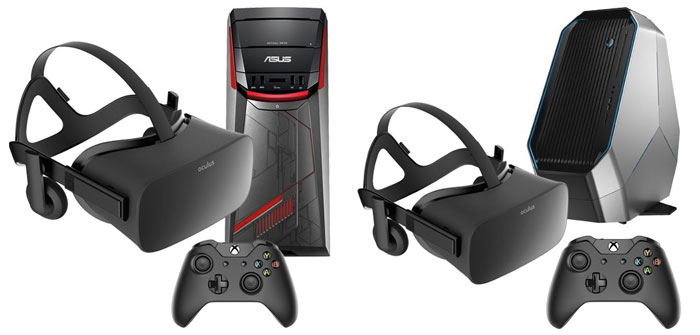 There are five PCs which have been selected for the first Oculus Ready bundles. ASUS, Alienware, and Dell provide the PCs while buyers of the bundle will get everything that comes with Rift – the headset, sensor, remote, an Xbox One controller, EVE: Valkyrie Founder's Pack, and Lucky's Tale. To purchase, or just click through and find out more about the offers, you can check over the listings at Best Buy, Amazon, and the Microsoft Store. All the prices and availability mentioned so far relate to the USA only but Oculus says that PC and Rift bundles will ship in limited quantities to select countries and regions from retail partners starting in April.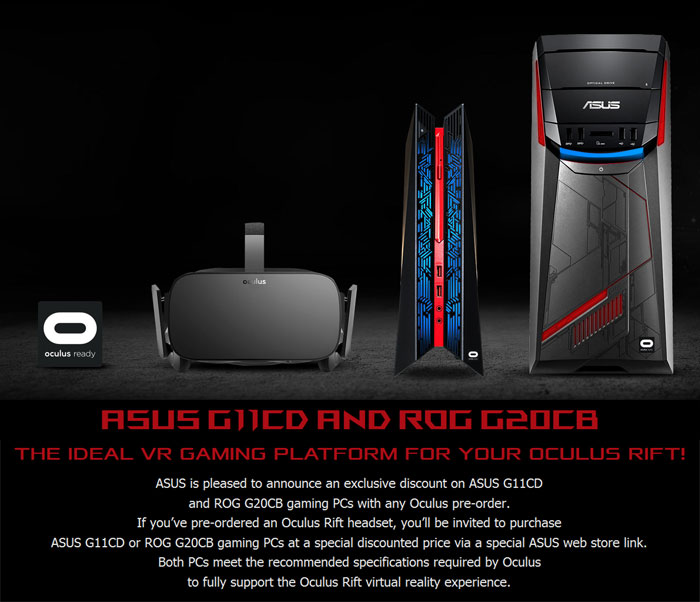 Looking at the Oculus Ready PCs on offer we can see that the cheapest, the ASUS G11CD, is sold unbundled for $1049. If you buy it in a bundle you get it for $949 - that's saving $100. Now if you look at the Best Buy link from above, as it shows the bundle details most fully, you can see that there is a total of $150 off the bundle so the Oculus Rift is effectively being reduced to $550.
If you have already ordered a Rift and are interested in these bundles don't worry, as you haven't missed out. Oculus says that if you check your order status and make sure you've opted in to partner offers you can claim your discount. After 16th Feb any applied offer code will appear in your order status listing.