PC chassis, components and accessories specialist firm Silverstone has written to HEXUS to announce that its ES01-PCIe remote switch kit will become available next week. The product, first seen at Computex last summer, is a combination PCIe card and compact remote control stick which allows users to wirelessly turn on/off and reset their PCs.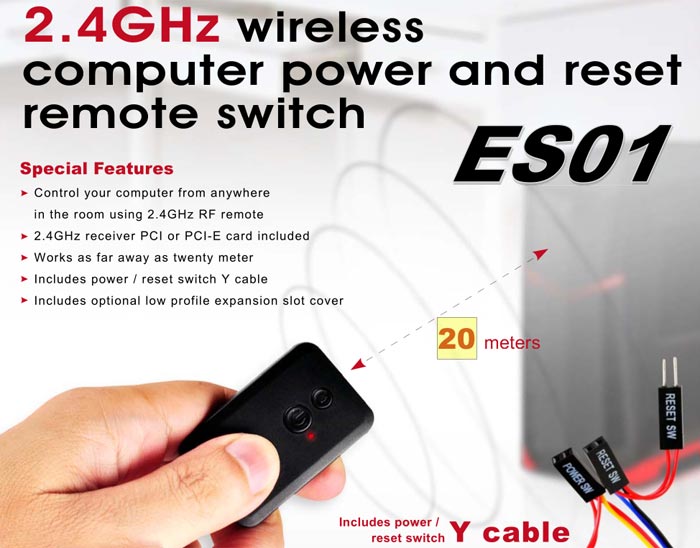 The Silverstone ES01-PCIe solution comes as a low profile PCIe x1 card with standard bracket supplied (there's also a standard PCI slot version, and optional low profile brackets available). The device works using 2.4GHz RF wireless technology. Fitting the PCIe card is the usual job of simply slotting the thing in, but then you must also attach the supplied power/reset switch Y cabling to the correct jumpers on your motherboard.
Once the PCIe card is installed properly you can start to use the supplied compact remote transmitter to control your PC - starting it up and resetting it from as far as 20 metres away, a distance reduced by obstacles and so on. With its dual functionality the remote simply offers a pair of buttons; a power button with an indicator LED and a smaller reset button.
Beyond its obvious remote on/off and reset functionality, Silverstone suggests the ES01 might be useful as "a simpler security solution than software access control". Furthermore the remote would be genuinely useful for PCs located in a hard to reach area due to their special purpose.
As mentioned in the intro, the Silverstone ES01-PCIe becomes available next week, on Thursday 28th January according to the manufacturer. The device's recommended price is $14.96 plus sales tax.