Microsoft's Applied Sciences Group (ASG) is a part of the company which is "dedicated to creating the next generation of computer interaction technologies," and works closely with Microsoft Research. The group has recently posted details of a fascinating new project on the web and YouTube – the 'DisplayCover' Surface keyboard cover with integrated e-ink touch display.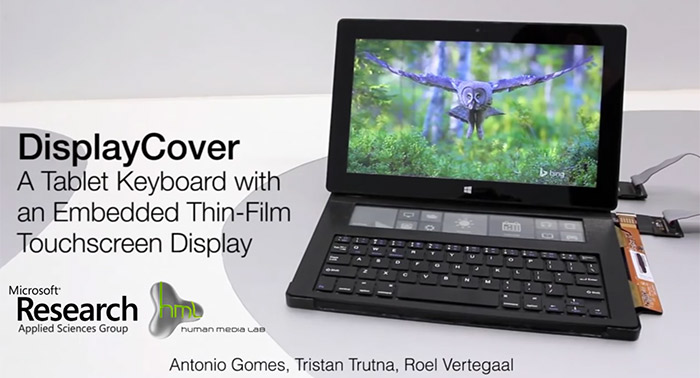 DisplayCover distils the essence of Microsoft's Adaptive Keyboard tech, first seen in 2009, to work with compact form factors like laptops and tablets. The input device combines a physical QWERTY keyboard with an e-ink display strip across the top, above the combined number and function keys. E-ink was chosen for its minimal impact on battery life. The e-ink display used by ASG has a resolution of 1,280 x 305 pixels.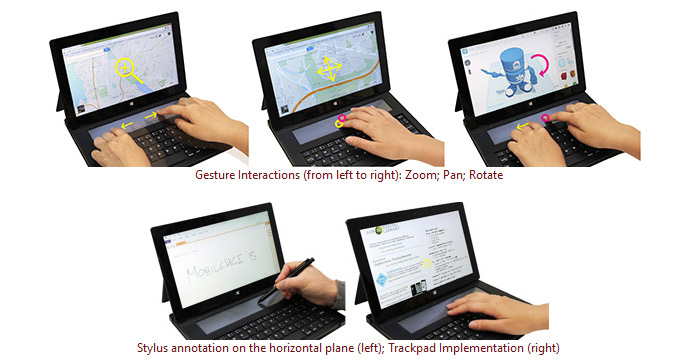 ASG's DisplayCover e-ink panel isn't simply a display or a second screen, it is touch enabled it can be used for "dynamic UI manipulation, concurrent access to multiple applications, stylus annotation, gestures and trackpad interactions on the horizontal plane". The video demo also shows vertical scrolling is possible by dragging up or down on the display.
As you can see in the video, different applications can use the e-ink display for different purposes. It is shown, with Photoshop running, to display the familiar image editing tools in the e-ink display for fast access while the full colour main Surface display can be dedicated in whole to the image. While in image editing it makes sense to use the stylus on the main screen image but for handwriting it works better, in many cases, using the e-ink display surface as the input source.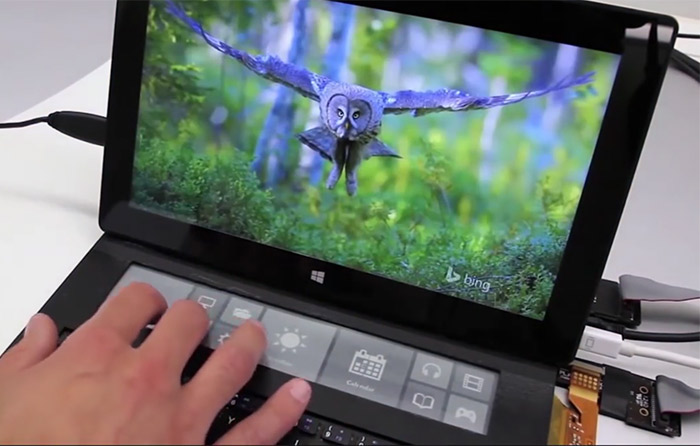 Microsoft's ASG demonstrated the e-ink display being used as an image thumbnail selector and slider where the selected image is put onto the big colour display. This same thumbnail list works with other applications – for example it allowed a user to select a photo to attach to an email. The secondary display can also be used to replicate the Windows task bar area or present your favourite live tiles.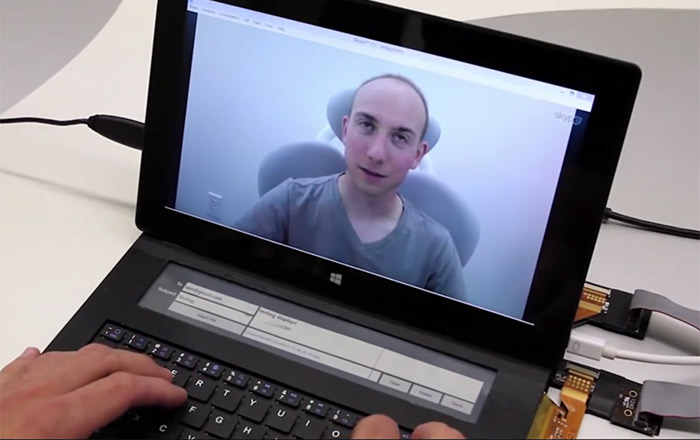 Concurrent access to applications was demonstrated by a specially written email client which works wholly in the secondary display. As you type an email in this compact email client, you can be enjoying a full-screen video or Skype-chat on the main display, for example.