Microsoft originally announced its new Universal Foldable Keyboard back in March. Now the firm has got around to making the input peripheral available to buy. The Bluetooth 4.0 device is compatible with a wide range of devices including those running Windows, Apple iOS and Android. As you might guess from its name, this keyboard's singular attractive quality is its portability due to its slim form and foldability.
Available immediately, the Microsoft Universal Foldable Keyboard is said to be "the perfect travel companion". It is compact and thin; in use on your work surface it measures 295mm wide and 125mm from front to back, folded up it is just 147mm by 125mm and 11.5mm thick.

Microsoft trumpets the peripheral's compatibility with "virtually any two mobile devices". The full range of devices supported include the Apple iPad, iPhone, Google Android devices, Microsoft Windows tablets, and Windows phones. The particular OS requirements are as follows; Windows 8, 8.1, Windows Phone 8.1 Update 2, Apple iOS 7-8.1, Android 4.3-5.0.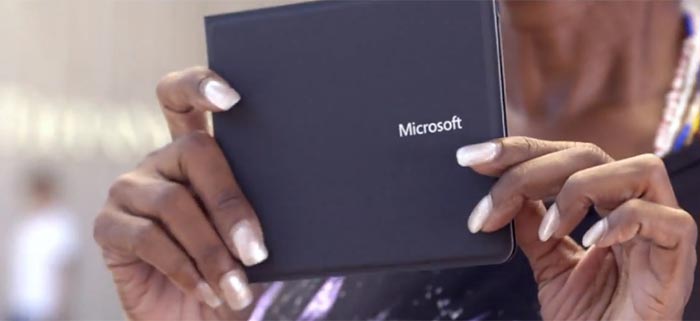 If you are a multitasker and always switching between devices you will probably find the ability of the Microsoft Universal Foldable Keyboard to simultaneously pair with two devices very useful. For example, you might be typing a report on your tablet and then you receive a text message on your smartphone. You can quickly switch the focus of the keyboard input with a single touch of the upper right located 'OS' key.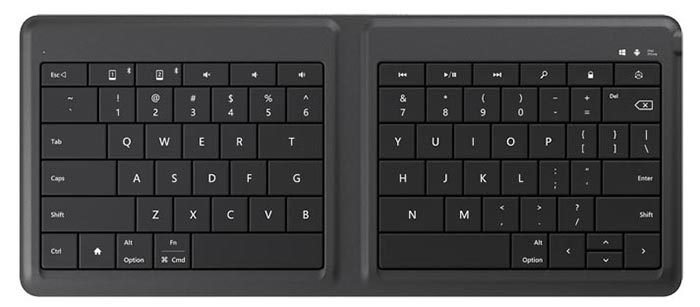 Microsoft's latest keyboard has some other nice design touches that are worth a mention including:
Folding the keyboard automatically turns it off
The built-in rechargeable battery lasts up to approx three months of usage
The keys are 'full sized'
The keyboard is spill-resistant
It "Works great with Windows 10"
The Microsoft Universal Foldable Keyboard is available now at the Microsoft Store and various other retailers starting at US$99.95. UK residents can grab the new keyboard for £99.99 inc VAT and delivery. Microsoft supplies a three year warranty.