A newly unearthed patent application from Apple shows the design of a reversible 'Type A' style USB connector, detailing its workings and specifications. Such a connector was pictured in the flesh a few days back via famous iPhone component leaker Sonny Dickinson. The official patent application, filed in Feb this year, adds quite a bit of weight to the feeling that the depicted cable is a 'genuine thing'.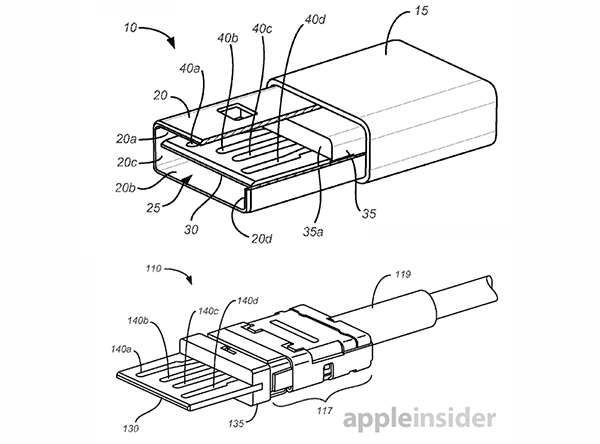 Apple Insider discovered the Apple patent application for the new variety of Type A connector. The patent documentation is entitled 'Reversible USB Connector with Compliant Member to Spread Stress and Increase Contact Normal Force'. This Type A male plug can be inserted in two orientations as it is 180 degree symmetrical. Some rumours say that these non-compliant USB plugs will feature on the other end of Apple Lightning cables, which are also reversible.
The patent filing says the reason behind the new design is that "Users may incorrectly insert a plug connector into a corresponding receptacle connector, which may potentially result in damage to the connectors and/or user frustration". While we wait for USB Type-C to arrive, with its smaller reversible connectors, and become ubiquitous, perhaps Apple's idea is a good one.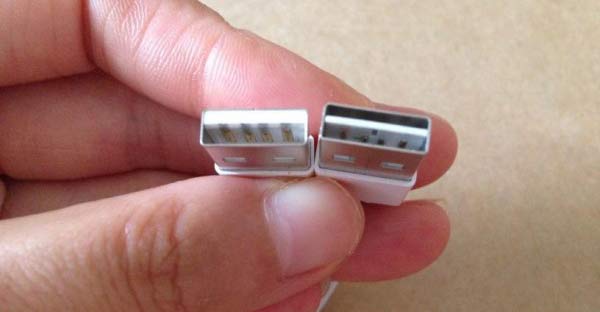 Looking at the in-the-flesh connector photos from Sonny Dickinson gives readers a better view of what is on offer with Apple's Type-A modification compared side by side with a regular Type-A connector (as seen above). You can see the inner plastic mounted connection block slimmed down and centralised. Contacts are then placed on either side of the plastic block. Hopefully it wouldn't make the connector (more) prone to breakages.
As mentioned above, it is thought that a new Apple cable with the depicted reversible USB connector on one side and a lightning connector on the other will be in the box of the upcoming iPhone 6 and iPhone 6L. If that is the case we should see it officially revealed in early/mid September.