Following an announcement made back in December, the USB 3.0 Promoter Group has today revealed the finalised design of its reversible Type-C USB connector. Furthermore we are informed that the connector is now ready for mass production.
The new Type-C specifications feature a new cable and connector scheme which is robust enough for laptops and tablets, whist its slim design is tailored to fit mobile device product designs. The specification has now been transferred to the USB Implementers Forum (USB-IF) in order to establish a compliance and certification program for new cables and connectors.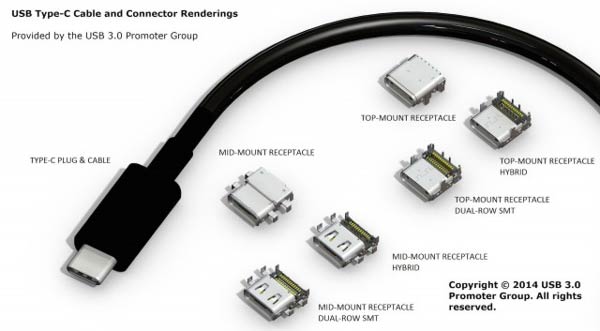 "Interest in the USB Type-C connector has not only been global, but cross-industry as well," said Brad Saunders, USB 3.0 Promoter Group Chairman. "Representatives from the PC, mobile, automotive and IoT industries have been knocking down our door anticipating this new standard. This specification is the culmination of an extensive, cooperative effort among industry leaders to standardize the next generation USB connector as a long-lasting, robust solution."
Although the new connector is similar in size to the current micro-USB 2.0 standard connector, the biggest advantage is the fact it is reversible. The new Type-C plug will be compatible with USB 3.1 SuperSpeed connectors, which have the standard four pins with five more to enable 10Gbps connections. It will enable USB Power Delivery up to 100W. There will also be new USB cables which includes a Type-C connector at both ends, along with adapters for connecting Type-C devices with older Type-A and Type-B ports.
With the existing Micro-USB connector authorised as the standard mobile phone charging connector by many governments around the world, Type-C plugs could take a while to induce an industry-wide shift. On the other hand, introducing Type-C connections could also be as simple as including a Micro-USB to Type-C adapter with every new smartphone. The USB promoter group press release includes flattering quotes from the likes of Intel, HP and Microsoft, but it does not mention any timeline for when Type-C support in devices might show up. However with the standard now set in stone we simply have to wait for tech manufacturers to introduce supporting devices - which shouldn't take too long.
Key characteristics of the USB Type-C connector include:
Entirely new design

Tailored for emerging product designs
Robust enough for laptops and tablets; slim enough for mobile phones
Similar to size of USB 2.0 Micro-B

Usability enhancements

Reversible plug orientation and cable direction

Supports scalable power charging
Future scalability

Designed to support future USB performance needs

Mechanical specs:

Receptacle opening: ~8.4mm x ~2.6mm
Durability: 10,000 cycles
Improved EMI- and RFI-mitigation features
Power delivery capacity: 3A for standard cables and 5A for connectors