Roccat has unveiled a couple of new PC gaming peripherals as part of its mission as "the snow storm to the gaming industry," seeking to redefine the gaming world. Both a newly designed keyboard and mouse have been shown off ahead of next week's Gamescom 2014 in Cologne, Germany, where the devices will make their public debut.
Roccat Nyth MMO mouse
Roccat's Nyth MMO mouse offers "fully modular" design, says the firm. Roccat says that "adaptive functionality is our first priority" and seeks to prove it by introducing this mouse that offers fully modular button choice and placement.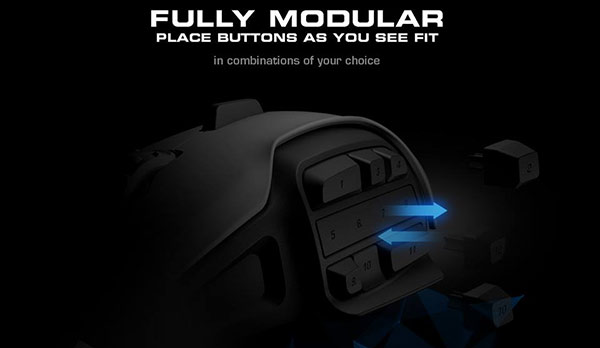 "The Nyth is a chameleon, capable of transitioning to a MOBA and FPS mouse easily with custom button placement," explains the marketing blurb. But that is not all, the mouse can accept differently shaped/moulded side parts to help it fit your hand better. The mouse is optimised for 3D printed parts with an online library available of custom designed buttons and side parts.
Roccat Skeltr keyboard with smartphone integration
This new keyboard's headline innovation is its smartphone integration. However we saw a bit of that with the Roccat Sova, shown at E3 in June. But perhaps you don't want to get the huge Sova peripheral and prefer your keyboard more traditionally placed upon a nice desk. Then this Skeltr could be for you.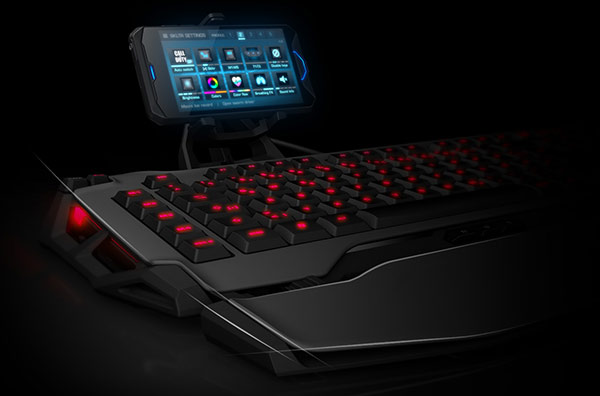 The Roccat Skeltr provides "cross utilisation", we are told. The exact details about what that means aren't explained beyond the obvious second screen functionality. We also see an integrated call button on the keyboard which allows you to answer calls via your headset simply and nimbly – without missing play time…
Hardware wise we know that the Skeltr communicates with your smartphone via Bluetooth and the keyboard component offers qualities such as RGB illumination and anti-ghosting technology.
Mad Catz ships its striking new Bluetooth keyboard
While we on the subject of 'innovative' input peripheral design I also noticed Mad Catz started to ship a very eye-catching new wireless keyboard this week. The Mad Catz S.T.R.I.K.E. M Wireless Keyboard for Android & Windows Smart Devices, PC, Mac & iOS works with all your Bluetooth devices.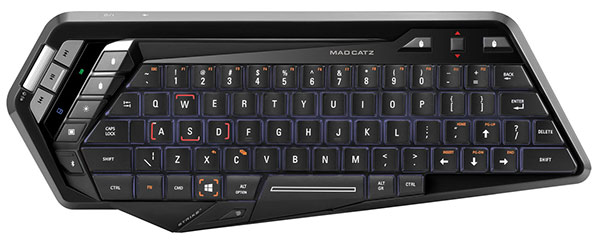 The keyboard offers Micro P.U.L.S.E. scissor keys provide crisp, tactile feedback. Beyond your standard QWERTY keys it includes a "suite of dedicated media buttons". One of the more interesting new features introduced in this keyboard is the 'Optical Finger Navigation' sensor with dedicated mouse buttons. You can see this positioned at the upper right of the keyboard chassis.
The Mad Catz S.T.R.I.K.E. M offers adjustable backlighting and can operate for 45 hours between charges. It's on sale now, in black or white versions, for US$99.