Microsoft has added a new All-in-One Media Keyboard to its Windows 8 hardware line up. The wireless input peripheral combines a full-size keyboard with a built-in multitouch trackpad.
While the wireless keyboard could be used with any USB-equipped Windows 7 or newer computer it is also compatible with Apple OSX v10.7-10.9, Android 4.03 or newer and USB HID-compatible games consoles and Smart TVs. It is primarily designed to aid users on interaction with their living room HTPCs and SmartTVs, as the built-in touchpad eliminates the need to scoot a standalone mouse along your leg or living-room sofa cushions. This means that consumers can better handle functions and features such as web browsing and apps.
Besides the touchpad, the All-in-One Media Keyboard also features convenient media-playing controls such as volume and mute. It comes with a wireless transceiver which plugs into a USB port. A left-click button at the top corner of the device also allows users to hold the keyboard in two hands and click without having to retreat to the trackpad.
The keyboard has also been extensively tested for use in the living room as the video below, found by NeoWin, demonstrates. It features a spill-resistant design and can also withstand bumps, drops and other accidents that may take place in a living-room situation.
With it being a Microsoft keyboard, the Function row hosts a range of Windows 8-specific commands including Settings, Search and Charms bar shortcuts. The multi-touch trackpad will also allow two simultaneous inputs allowing swipe, scroll and zoom actions. Users who are pairing the keyboard with a touchscreen device will also be able to bring up the charms bar and switch between apps with Windows 8-specific swiping commands. "With customizable hotkeys for the Web, music, photos and movies, you can quickly access your favourite media with one touch," reads the product info sheet.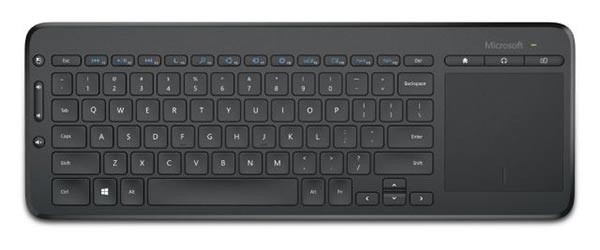 Other key(board) specifications
Product dimensions: 367 x 132 x 19.4mm
Weight: 434g including 2x AAA batteries
Keyboard localisation: most major countries/languages supported
Wireless tech: Microsoft Nano Transceiver v2.0, 2.4 GHz frequency, 10 meters (33 feet) typical range, 128-bit AES encryption
Durability: QWERTY: 5,000,000 actuations per key, Media and Mouse Keys: 500,000 actuations per key
Battery life: typically 9 months (alkaline)
Made in: China
The All-in-One Media Keyboard will be available sometime in April priced at $39.95 and can be purchased from participating retailers such as Microsoft Store, Best Buy and more.