The Universal Serial Bus (USB) Type A and Type B connectors will be joined by a newly pictured Type-C connector to be finalised this summer and built-into devices before Xmas. The previous USB connectors looked simple in comparison to some of the old interfaces they replaced, like parallel and serial ports, but are still unnecessarily complicated in that there are two different kinds of ends and both ends need to be orientated correctly as you fumble around behind your PC, printer, scanner, external storage device or whatever.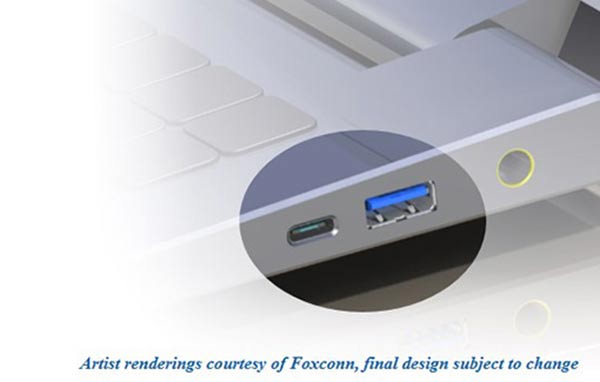 The new USB Type-C connector will use the same connector for both in and out, computer and device, also it will have a plug that offers symmetry across its end axis so it can be inserted in either of two orientations – much like Apple's lightning cable. It is also much smaller than existing Type-A and Type-B connectors but not as small as the ever more common non-reversible micro-USB connector. The exact size of the USB Type-3 connector is 8.3 x 2.5mm and you can see the receptacle above in a render courtesy of Foxconn, in a laptop edge sitting next to a Type-A USB 3.0 connector.
In its original announcement in December, Brad Saunders, USB 3.0 Promoter Group Chairman said "While USB technology is well established as the favoured choice for connecting and powering devices, we recognize the need to develop a new connector to meet evolving design trends in terms of size and usability". He went on to predict "The new Type-C connector will fit well with the market's direction and affords an opportunity to lay a foundation for future versions of USB".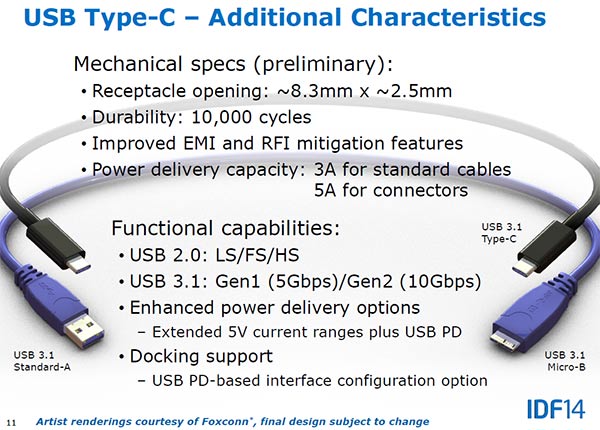 The new standard connector allows for the maximum USB 3.1 throughput rate of 10Gbps and possibly higher rate in the future. It can also support support scalable power charging up to 100 watts. Phys.org reports that another nice feature of the new plug will be an audible click when it is correctly inserted into a compatible device. Also certified plugs must be capable of enduring 10,000 insertions/unpluggings.