Let's start with a picture. This keyboard is very pleasant on the eye and also goes easy on the environment according to manufacturer iZen. It's made of 92 per cent bamboo, a famously fast growing and replenishable natural material, also used for culinary purposes, medicine, construction, paper, textiles and musical instruments.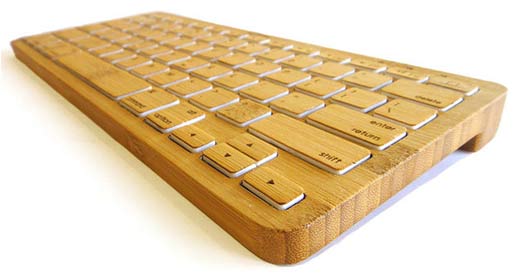 Bamboo is hardwearing and versatile and also featured in some previous computer products, notably ASUS's U-Series Bamboo notebooks. I for one thought they were cool. These ASUS notebooks were only a small percentage bamboo but apparently reduced plastic usage by about 15 per cent.
The iZen Bamboo keyboard connects to your computer/tablet via Bluetooth wireless and has a built-in rechargeable lithium ion battery. The battery is charged via a USB cable, included in the box, which shares the pinout of the iPad/iPhone connector.
The current model seems to lean towards Apple users as it has Mac specific control keys such as Command and Option, which usually map to Windows and Alt on the PC. Further keys on the keyboard have additional icons for home, search and slideshow for iPad users. It looks a lot like the current Apple Mac Wireless Keyboard, except for the bamboo, of course! There is a matching tablet stand available from iZen too, but that's really only an X-shaped piece of wood.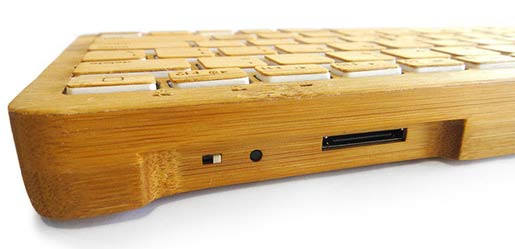 What's always interesting about keyboards though is the feel. And there is no information available on the company website about the keyswitch technology used by this $99 peripheral. So while it looks fantastic we'd be concerned about swapping a keyboard with mechanical key switches and a dedicated numeric keypad for this model.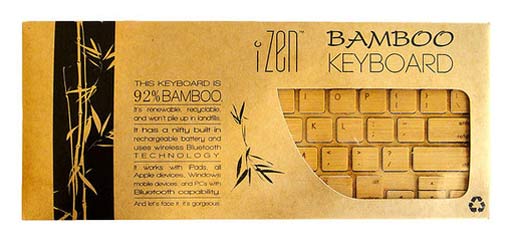 Keyboards are so very important to computer use and are often neglected when allocating the budget on a PC spend. The iZen Bamboo certainly is a looker but depending on your use; extensive gaming, typing or data entry, you might be better off with a keyboard with different ergonomics. On the other hand, if you're looking to increase your green credentials, the iZen Bamboo does make a statement.
Product Specifications:
Uses Bluetooth technology

Built-in rechargeable lithium-ion battery

Charges with a USB 2.0 cable, the same one used to charge an iPhone or iPad. The USB charging cord is included in the box with the keyboard. ($19 value)

One-touch access to Mac features

Improved key feel

Weighs 1.1 lbs (including box)

Dimensions 11.5" W x 5" L x .75"H

Costs $99.00 including USB charging cable