Some years ago, the peripheral gurus at Razer got together with the folks from Belkin and came up with the Belkin n52 and n52te SpeedPads - a bizarre fusion of mouse, keyboard and gamepad all rolled into one ultimate controller.
But that was back in 2007, and now the two companies are back with the Razer Nostromo, the next generation of one-handed gaming keypads. A lot of the styling and ergonomics have carried over from the original pads, but it's inside where the real changes have been made.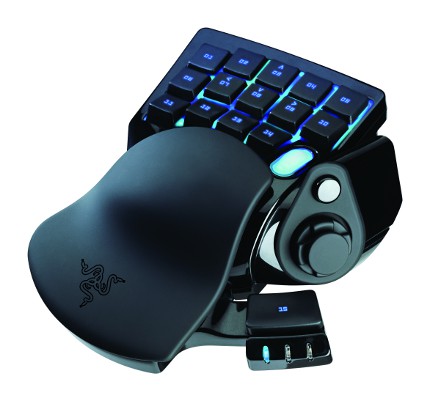 The combination of a new onboard chipset and updated driver software removes some of the limits of the older versions by allowing you to program macros of unlimited length. Using the improved software, you can also configure up to eight different keymaps that can be cycled on the fly - up from three - and store as many as 20 unique profiles - up from ten.
Of course, even without the software, the hardware is fairly impressive. The pad features 16 fully-programmable backlit keys, a scroll wheel and an eight-way directional-pad that can be used for either movement or as a modifier for the other keys.
The Nostromo seems like a worthy upgrade to its forbearers and an excellent addition to any serious gamer's arsenal. It should available now directly from Razer for €69.99 (around £60 inc VAT), although it isn't expected to ship until the end of the month.