Gyration, the California-based consumer electronics branch of Movea, has announced the UK launch of its Air Mouse.
The motion-sensing peripheral, pictured below, has been available to US consumers for some time and will make its UK debut in October 2008 with a recommended retail price of £69.99.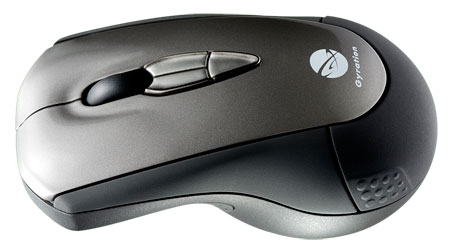 Gyration's Air Mouse features the MotionSense technology found in the HEXUS-recommended Media Center Remote, and provides precise in-air motion tracking. Once the tracking mechanism is activated - by pressing a well-placed button beneath the mouse - a simple flick of the wrist can carry out a multitude of tasks, such as controlling presentations or skipping songs.
It isn't all about in-air use, either. The device features a laser sensor for tracking, and utilises 2.4GHz RF technology, providing a range of up to 100ft. Its RF USB dongle can be stored conveniently inside the mouse, but the device sadly isn't rechargeable and requires two AAA batteries.
It does, however, feature an ergonomic design that suits both left and right-handed consumers. It's small, too, and weighs less than four ounces - making it an ideal fit for most notebook bags. Unlike the HTPC-orientated remote, Gyration states that the Air Mouse is suited to the mobile professional.
Greg Smith, vice president for marketing at Movea Inc., said:
The market for notebooks is transforming, as more people are buying them equipped with wide screens and media features, and using them not only for traditional business applications but also for entertainment access. The Air-Mouse was designed with such people in mind, providing mobile workers and entertainment buffs the freedom to control their PCs whether they're at home or on the road.
Official press release: Gyration Air Mouse with MotionSense™ Arrives in UK