Introduction
Home theatre PCs have grown in popularity over recent years, but they've always faced one apparent problem; how do you control a PC from the couch? One could always stick to the tried-and-trusted keyboard and mouse combination, but the living room requires a little more finesse.
There's no shortage of interim solutions, and though a basic media center remote will handle Microsoft's MCE interface without a problem, we all find ourselves rushing for the mouse when navigating Windows in general. So, what we need is a remote that can double as a mouse, right?
Here's a solution that does just that, and it comes from Gyration, a California-based manufacturer of motion-sensing peripherals. Its Gyration Media Center Remote Control promises to allow users to "enjoy your Media Center PC to the fullest", thanks largely to its gyroscopic motion-sensing technology for in-air navigation.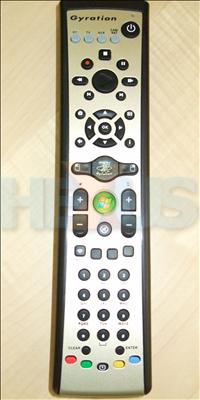 The majority of the world's population is now likely to be aware of motion-sensing remote controls, thanks largely to Nintendo's Wii console. What many people aren't aware of, is the fact that Gyration's patented motion-sensing technology and expertise helped develop the Wii Remote that millions now enjoy.
That very technology is used to allow the Gyration Media Center Remote to act as an in-air mouse. At approximately £60, it's an expensive remote for most users, but is it really any good? Let's take a closer look...