Microsoft is looking closely at a big change in the design of its upcoming Surface computers. A newly unearthed patent application, spotted by Paul Thurrott, indicates that the firm is considering adding an inking input area onto the wrist rest of its Surface Book hybrid.
In the illustrations within the patent document you can see that one possible design features a 'writing surface' situated to the right, and of a similar size to, the touch pad. The sketch shows that what the user inks on this part of the 'writing input device' shows up verbatim on screen.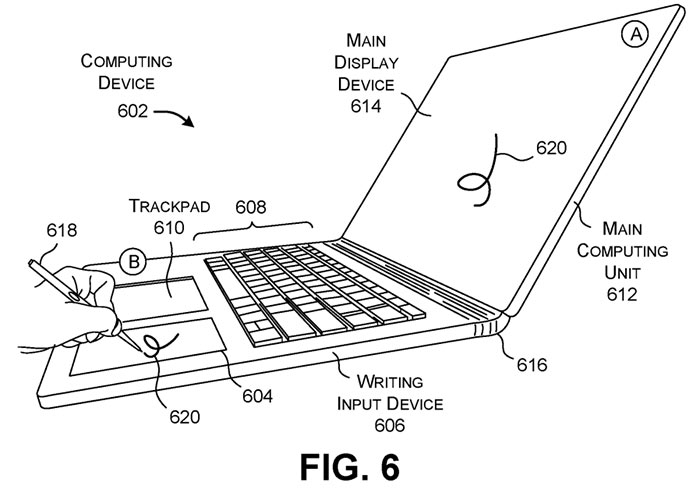 Though all Surface devices feature touch screens, and users can choose to ink via the screen using touch or stylus, it is noted that in traditional clamshell usage mode such a reach is unnatural: "A user may interact with the writing input device in a manner similar to a physical pad of paper," via the new stylus input pad, the patent application explains. "This capability improves the user's note-taking experience by not requiring the user to assume an unnatural posture while taking notes."
Reading the patent further, a "triggering event" will be used to transfer the captured digital ink from the writing input device to the main screen of the device. One might expect an 'enter' symbol on the e-ink input display to confirm a signature or other inking scrawl is acceptable for placing in the main screen document.
Elsewhere in the patent there is an optional stylus silo / receptacle / housing touted. Currently the Surface Pro X includes such a design feature as part of its Type Covers but other Surface PCs currently lack this handy design finesse.
Would current Surface users welcome the above innovations? Please let us know in the comments below.