Microsoft has some keyboard layout innovations on the way for buyers of its latest input devices. It has listed a new Ergonomic keyboard and Bluetooth keyboard on its US website, both available from today, which come packing new 'built-in shortcuts'. In particular these keyboards include "dedicated function keys for Office 365, emojis, search, easy access to media controls and more." This is the first time Microsoft has released keyboards with both Office and Emoji keys.

The new Office and Emoji keys site between the right Alt and Control keys, which are on to the right of the space bar. Looking through the various keyboards in my collection this space is usually used for a right side Windows key or Function key, and the Windows context menu pop-up key. This change is debuting with Microsoft's new Ergonomic Keyboard ($59.99), and new full sized Bluetooth Keyboard ($49.99).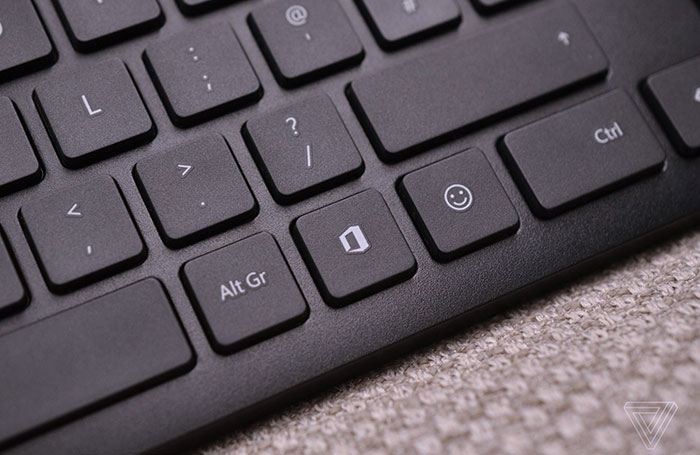 Microsoft's new Office key works very much as you might expect. If it is pressed on its own, without a modifier, it will open up the Office for Windows 10 app "that acts as a hub for Microsoft's productivity suite," notes The Verge. However, you can use it to go straight to Word, Excel, PowerPoint or so on with modifiers. For example, Office Key + W opens Word. If you are a heavy user of Office apps then the dedicated key might appeal, but typists for example, might prefer to invest in a quality mechanical keyboard for the overall experience upgrade.

Microsoft's dedicated Emoji Key might find fewer fans. In the version of Windows 10 I am currently running on my desktop PC I can invoke the Emoji input menu with a simple shortcut already (Windows key plus Full Stop key). You can't use it to auto-insert a specific emoji or otherwise configure it.
Currently Microsoft has a licensing program so third party peripheral makers can use its Windows key and guarantee its appearance and functionality. It hasn't opened up such a program for Office and Emoji keys as yet.