Today Corsair announced six new gaming headsets. Two new ranges, dubbed the Void Elite and HS Pro series gaming headsets gained three products each, however they all have some basics in common. All of the headsets use 50mm neodymium audio drivers and many are configurable (lighting and sound) via Corsair's iCue software.
Corsair Void Elite series
This series utilise new custom-tuned 50mm neodymium audio drivers with an expanded frequency range of 20Hz-30,000Hz. Corsair says that users will enjoy very clear audio with powerful bass, and the 7.1 surround sound options available will help position you in your game world at the heart of the action. To create these headsets, Corsair has paired the audio drivers with a redesigned Discord-certified omnidirectional microphone.
Corsair's Void RGB Elite Wireless (£100) connects to both PC and PS4 via ultra-fast 2.4GHz wireless with up to 40ft of range and 16 hours of battery life, offering both 7.1 surround sound and dynamic RGB lighting on the ear cups.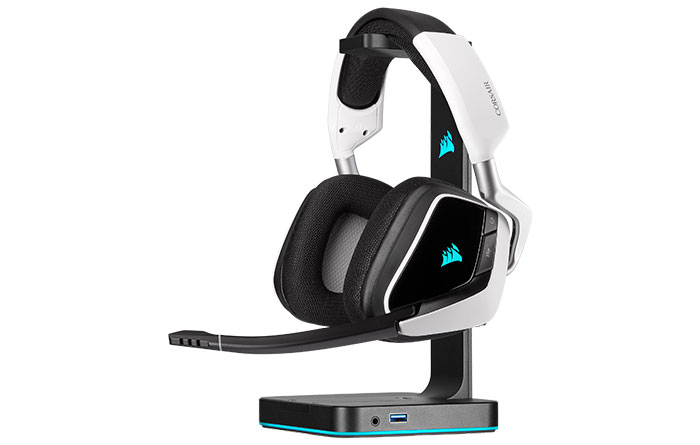 If a wired PC-only option is fine for you, you can choose the Void RGB Elite USB (£70) which also features 7.1 surround sound and RGB lighting, but plugs directly into a USB port on your PC.
Lastly there is the Void Elite Surround (£65), which includes the popular 3.5mm audio connector, but includes a USB adapter facilitating 7.1 surround sound on your PC too.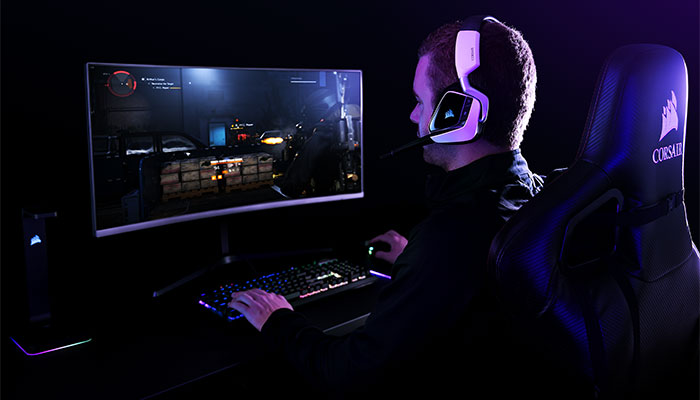 Whichever Corsair Void Elite model you choose you will get "stunning sound," says Corsair, plus microfibre and memory foam cushioning, durable aluminium yokes, plus easy lighting and sound profile adjustment via Corsair iCue.
Corsair HS Pro series
These headsets utilise new 50mm neodymium audio drivers and an updated detachable unidirectional microphone. Note that these aren't 'custom tuned' and 'Discord-certified' like the Void headsets. Despite those concessions to make the pricing more palatable, the HS Pro range come with an updated form-fitting memory foam padding on the ear cups for long-term comfort, as well as rigid aluminium alloy yokes and a metal internal headband.
The HS70 Pro Wireless (£90) employs a low-latency 2.4GHz connection with the same 40ft range and 16 hour battery life of its Void relative. Its unthethered nature menas you can escape the confines of the desk or couch without pulling or tangling wires - and it provides 7.1 surround sound.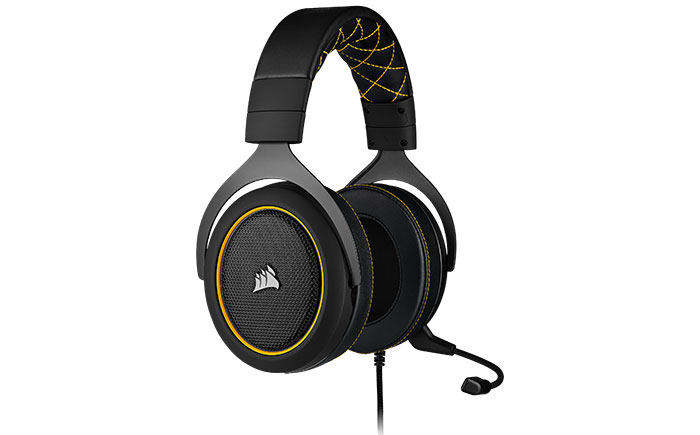 Corsair's HS60 Pro Surround (£65) features multi-platform compatibility with a universal gold-plated 3.5mm connection, plus a USB adapter enabling immersive multi-channel 7.1 audio on PC. It comes with a durable braided cable. Moving down the range the HS50 Pro Stereo (£55) skips the USB connectivity and is 3.5mm only.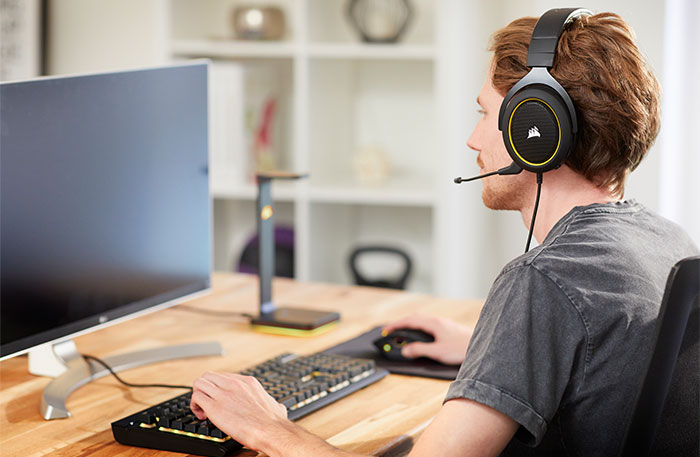 Not part of the HS Pro family, but still a new entrant today, the new Corsair HS45 Surround is a lighter weight member of the family that includes a 3.5mm connection, durable construction, detachable unidirectional microphone, and adjustable ear cups with memory foam cushioning. Additionally a USB adapter is bundled with this headset providing 7.1 surround sound on PC.