Corsair has launched a new wireless gaming keyboard a Gamescom. The new Corsair K57 RGB Wireless Gaming Keyboard is the first such device to feature both Slipstream Wireless connectivity and Capellix RGB LEDs. Slipstream Wireless is claimed to be good for a hyper-fast sub-1ms connection to your keyboard, and the Capellix RGB LEDs (which debuted with Corsair Dominator Platinum RGB DDR4 in Feb) for up to 60 per cent brighter lighting.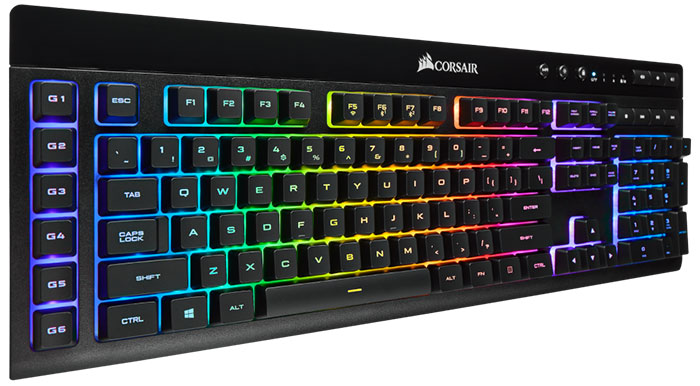 While the K57 RGB Wireless Gaming Keyboard is, of course, wireless and makes use of Corsair's 2.4GHz Slipsteam dongle, it does have two alternative connectivity modes. There is another wireless mode, compatible with many devices which might not have a spare USB port or don't require the fastest performance - Bluetooth 4.2+LE. Last but not least you can choose to connect to your computer via USB 2.0 or 3.0 Type-A and use a wired connection (1000Hz report rate) and charge at the same time. A detachable 1.8 m / 6 ft, tangle-free rubber cable is provided in the box.
Corsair says that its Slipstream Wireless connectivity offers a sub-1ms response time. For security it uses 128-bit AES wireless encryption. When in this operation mode, the 3200mAh nominal capacity battery in the K57 RGB Wireless Gaming Keyboard can run for up to 35hrs with standard lighting, or 175hrs without backlighting. If you opt for the Bluetooth connectivity mode, for your tablet or smart TV etc, then you can expect up to 40hrs with standard lighting, or 200hrs without backlighting.
The other heralded feature of the Corsair K57 RGB Wireless Gaming Keyboard is its Capellix RGB LEDs. These new LEDs can shine up to 60 per cent brighter and are up to 60 per cent more efficient than conventional LEDs. They help the untethered modes offer extended battery life.
On the topic of RGB LEDs, readers will not be surprised to hear that this individually lit per-key keyboard uses Corsair iCUE software for lighting control along - as well as sophisticated macro programming and key remaps.
Turning to more standard functional keyboard concerns and specs - this is a rubber dome tactile keyboard with anti-ghosting with selective 8-key roll-over (8KRO) + modifier keys. As well as not using mechanical switches, Corsair has cut the price using a textured plastic top chassis with gloss top bar. Dedicated media keys are provided for mute, vol down/up, stop, prev, play/pause, and next. Buyers will get a detachable full-length palm rest with soft touch finish in the box.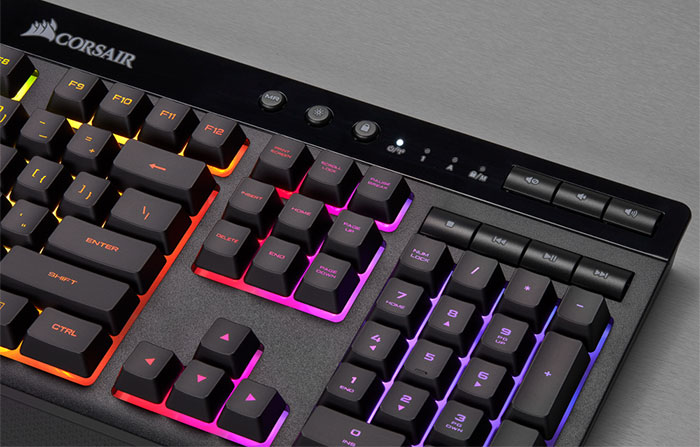 The Corsair K57 RGB Wireless Gaming Keyboard is available immediately, according to the email we received. It is priced at an MSRP of £89.99 in the UK and comes with a two year warranty.