Razer has launched the Razer Viper at ChinaJoy 2019 in Shanghai. This new gaming mouse's claim to fame is that it is the first to feature the new Razer Optical Mouse Switches. Razer says that these optical switches are Razer's fastest and "offer three times the actuation speed of traditional mechanical mouse switches". Other highlights of the Razer Viper design are the Razer 5G Optical Sensor, Razer Speedflex Cable, and the lightweight design finessed in collaboration with eSports professionals.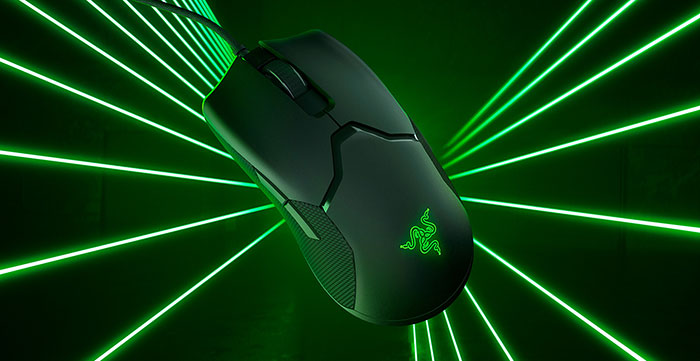 The value of optical switches in mice echoes their use case for them in keyboards. Primarily the optical switches remove the possibility of the residual bouncing effect that can introduce multiple signals when traditional mechanical electrical switches are employed. In other words they facilitate faster response times - about 3x faster according to Razer's data. Another benefit of the optical switch is that it is even more durable - less moving parts - thus Razer has upped it switch life rating to 70 million clicks. In total the Razer Viper has 8 programmable buttons but the optical switches are in the main left/right buttons only.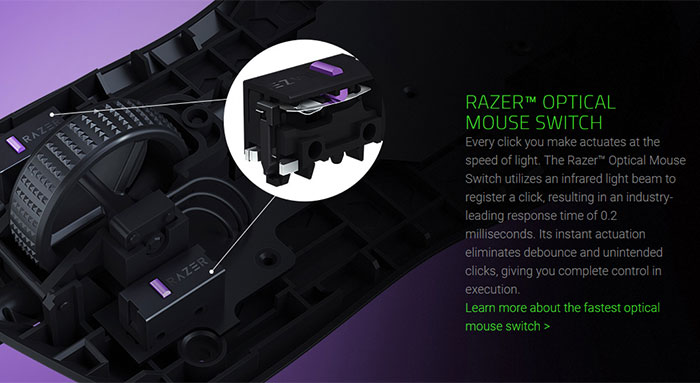 Razer's new Viper gaming mouse sports an ambidextrous design. Razer highlights the rodent's light weight - saying it is the lightest mouse it has ever made - at 69g. A key part of the design facilitating the weight reduction is the use of a skeletal shell. Anticipating any worries about such construction, Razer insists that the chassis "does not compromise on strength and durability," and it has been thoroughly field-tested by leading eSports players.
Other key technologies in the Razer Viper are its new Speedflex Cable with low-drag for reduced friction and snag prevention. Inside the Viper employs Razer's 5G Optical Sensor, sporting a 16,000 DPI native resolution, 99.4 per cent resolution accuracy, and tracking at 450 Inches Per Second (IPS).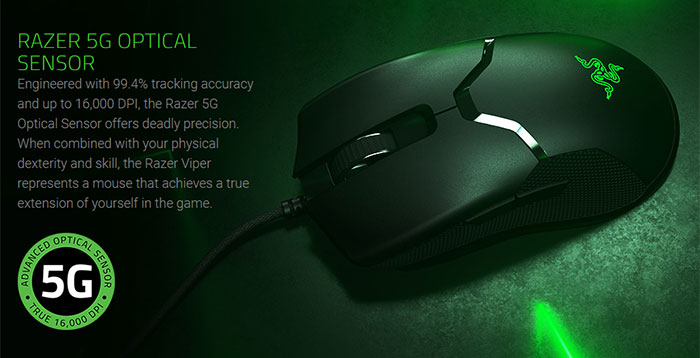 Last but not least the Razer Viper has RGB lighting on the palm logo and around its edges. The lighting and other aspects of mouse control and configuration can be fine-tuned through the Razer Synapse 3 software and stored using the Viper's on-board DPI storage.
Razer says that its new Viper gaming mouse is available immediately at $79.99 USD / €89.99 MSRP worldwide and via Razer.com.
Specs
Razer 5G Advanced Optical Sensor with true 16,000 DPI
Up to 450 inches per second (IPS) / 50 G acceleration
1000 Hz Ultrapolling
Razer Optical Mouse Switches with 70 million clicks life cycle
Razer Speedflex cable
Gaming-grade tactile scroll wheel
69g lightweight ambidextrous design
Razer Chroma lighting with 16.8 million customizable color options
Eight independently programmable Hyperesponse buttons
Onboard DPI Storage (Up to 5 DPI stages)
Razer Synapse 3 enabled
Approximate size: 126.73 mm / 4.99 in (Length) X 66.2 mm / 2.61 in (Width) X 37.81 mm / 1.49 in (Height)
Approximate weight (excluding cable): 69 g / 0.15 lbs
Cable length: 2.1 m / 6.89 ft