Microsoft researchers assert that currently available VR/AR hand controllers are a particular weak spot in the whole VR experience. "How many times have you reached for an object in VR or augmented reality (AR) and, just as you were about to grab it, you experienced the bitter sensorial shock that the object did not exist in the real world?" ask the researchers, in a blog post about this issue and their proposed solution.
The solutions that exist for compelling forms of haptic feedback haven't made it out of R&D and similar labs due to costs and complexity, but the Microsoft team reckon they have developed a first-rate touch controller which they have dubbed TORC. TORC is a rigid haptic controller that renders elastic objects, and its name is a contraction of 'TOuch Rigid Controller'.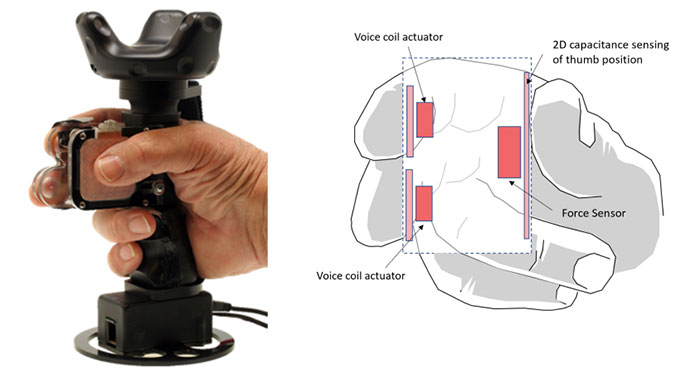 The prototype TORC fits in the palm of your hand and its rigid shell has no moving parts - good for economical manufacture and product longevity. Despite its rigidity it can "deliver rich haptic feedback and allows high level of dexterity and compliance perception when manipulating virtual objects," assert the researchers. This quality is down to the neuroscientific fact that "humans are very susceptible to dynamic visuotactile stimulation."
TORC can convey the feeling of texture and pseudo-compliance of objects that are varying degrees of firm - like a silicone ball, to squishy, like a stress ball. Meanwhile the dexterity of finger movement it affords and haptic feedback allows for realistic manipulations in the VR world - inserting key in lock, rotating it, felling the lock open etc.
An appealing thing about TORC is that it can be embedded into a variety of controllers and everyday devices. The researchers say there would be no problem incorporating the tech into a traditional games controllers, VR controllers or even stylii. These could be used for improved VR/AR in serious applications, or in games and experiences.

TORC prototypes will be shown off at the ACM CHI Conference on Human Factors in Computing Systems (CHI 2019) on 4th to 9th May in Glasgow, Scotland.