PC performance components and gaming accessories specialist Corsair has launched a couple of new gaming rodents and mouse mats today. These mice and mouse mats are added to Corsair's rapidly expanding gaming peripheral lineup and are designed for high performance demands. There are new RGB wireless and RGB wired mice to consider, as well as the premium mouse mats - which are designed to appeal to eSports pros.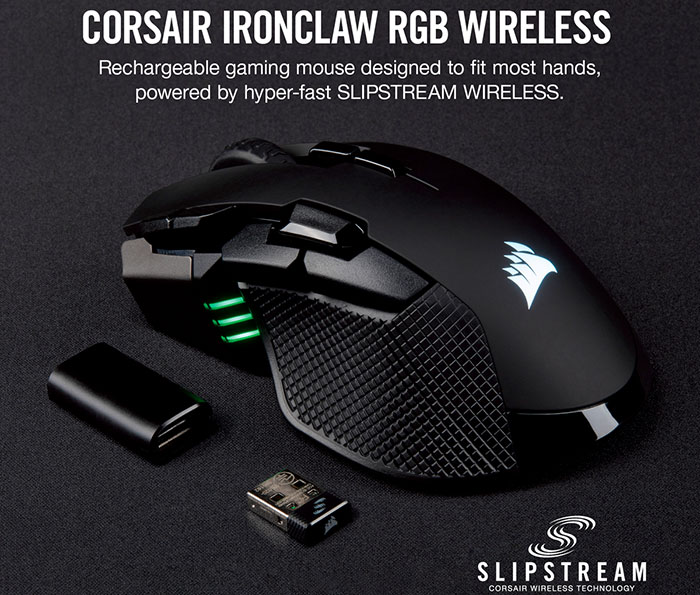 Probably the highlight of the products launched today is the headlining Corsair Ironclaw RGB Wireless gaming mouse ($80). This is a wireless version of the "acclaimed Ironclaw RGB launched in early 2019," and shares many of its qualities, as you would expect, Thus you will find a palm grip-optimized shape and rubberized side present in the original design. Other things in common include the top-end 18,000DPI Pixart optical sensor and ultra-durable Omron switches. However, there are three additional buttons on this Wireless version (bringing the total to 10 programmable buttons).
Inside the Corsair Ironclaw RGB Wireless gaming mouse is the industry-leading 2.4GHz Slipstream Wireless component. This delivers "unbelievably fast sub-1ms wireless latency, a wireless range of up to 33ft, and Intelligent Frequency Shift (IFS) ensuring a stable signal even in heavy wireless traffic," according to Corsair. It goes so far to say it can deliver "a wired mouse gaming experience, without the wires".
If you prefer, the Corsair Ironclaw RGB Wireless gaming mouse can connect over Bluetooth, opening up connectivity options and compatibility with many devices from laptops to tablets. If you connect the Ironclaw with the supplied cable it can be used while charging. A full charge will allow for approx 50 hours of battery life, giving you days of use between charge cycles.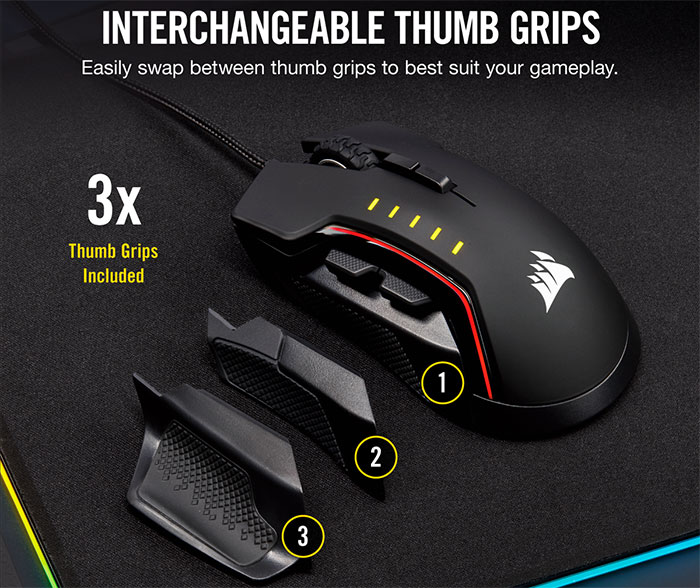 Moving along to the Corsair Glaive RGB Pro wired gaming mouse ($70), this product has the same design as the regular Glaive RGB but includes three interchangeable thumb grips for customized comfort. These grips feature various 2019 new style textures. Corsair says it has updated the sensor too. Inside this Pro edition is an 18,000DPI Pixart optical sensor, customizable in 1 DPI resolution steps and with five programmable sensitivity presets.
Like its compatriot above, the Glaive RGB Pro features three-zone RGB backlighting, durable Omron switches. Other design choices worth highlighting are the seven programmable buttons present plus the aluminium scrollwheel.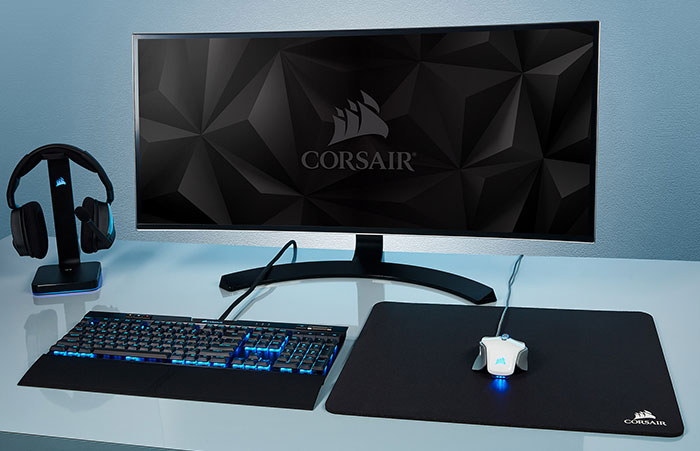 The two new mousing surfaces from Corsair, the MM350 and MM250 Champion Series premium mouse mats ($25 and $23 respectively), are very similar. Both are made available in the X-Large 450mm x 400mm size, said to be "ideal for desktop use and low sensitivity play". They are both 5mm thick but vary with the edge work, and you can choose from the stitched anti-fray edge of the MM350, or the standard edge of the MM250.