The USB Implementers Forum outlined the USB 3.2 spec back in July 2017. At MWC 2019 today it provided an update (PDF file) on branding and name changes for USB 3.0 and 3.1. In brief, the USB 3.2 standard will absorb USB 3.0 and USB 3.1 specifications so you won't see such standards mentioned on new products. Unfortunately such branding will remain on kit you might already own, of course, serving to confuse…
With the new branding there are three standards outlined, and three new 'marketing names' as follows, with a reference reminder to what they used to be called.
| | | | |
| --- | --- | --- | --- |
| Standard | Speed | New marketing name | Original name |
| USB 3.2 Gen 1 | 5Gbps | SuperSpeed USB | USB 3.0 "SuperSpeed" |
| USB 3.2 Gen 2 | 10Gbps | SuperSpeed USB 10Gbps | USB 3.1 "SuperSpeed+" |
| USB 3.2 Gen 2x2 | 20Gbps | SuperSpeed USB 20Gbps | USB 3.2 "SuperSpeed+" |
In addition to the above, the USB-IF wants to remind us of the key messages for USB 3.2. These are that USB 3.2:
Defines multi-lane operation for new USB 3.2 hosts and devices, allowing for up to two lanes of 10Gbps operation to realize a 20Gbps data transfer rate, without sacrificing cable length.
Delivers compelling performance boosts to meet requirements for demanding USB storage, display, and docking applications.
Enables end-users to move content across devices quickly, conveniently and without worrying about compatibility.
It is backwards compatible with all existing USB products; will operate at lowest common speed capability.
Enables devices from different vendors to interoperate in an open architecture, while maintaining and leveraging the existing USB infrastructure.
Allows system OEMs and peripheral developers adequate room for product versatility and market differentiation without the burden of carrying obsolete interfaces or losing compatibility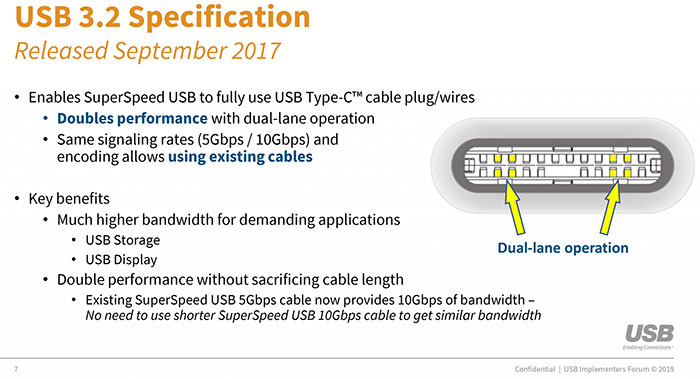 The USB says it is very important that vendors clearly communicate what USB 3.2 spec is present on the device packaging, advertising content and in any marketing materials. The new 'marketing names' in the table above is the recommended nomenclature with 'SuperSpeed USB' for 5Gbps products, 'SuperSpeed USB 10Gbps' for 10Gbps products, and 'SuperSpeed USB 20Gbps' for 20Gbps products.
Lastly, we are reminded that USB 3.2 is not USB Type-C, USB Standard-A, Micro-USB, or any other USB cable or connector, and it doesn't indciate any capability with regard to USB Power Delivery or USB Battery Charging.
We expect the first USB 3.2 chips capable of USB 3.2 Gen 2x2 standard transfer speeds to be deployed on high-end motherboards this summer. Peripherals that take advantage of the fastest transfers supported by the new standard might not even become available until late 2019 or 2020.