Razer has launched its new Razer Nari Ultimate wireless gaming headset with Razer HyperSense. This premium wireless headset is one of three launched to form the Razer Nari family today.
Razer Hypersense is a key differentiator for the Razer Nari Ultimate wireless gaming headset. It provides "advanced haptics to deliver a deeper immersive experience for gaming, movies and music," says Razer. Behind the Razer branded tech is a firmware/hardware haptics system designed by Lofelt, a leading German technology company that specialises in creating intelligent haptics for immersive, natural tactile experiences.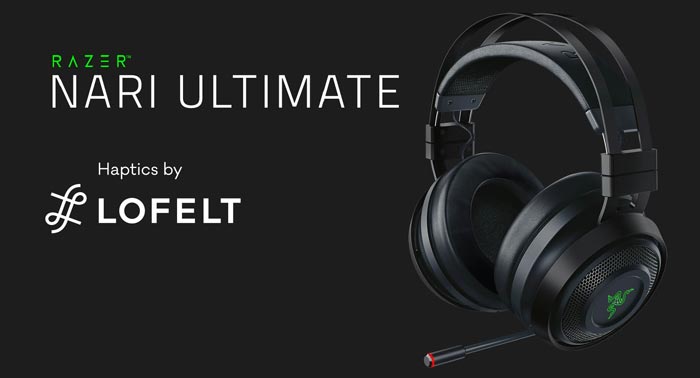 According to Lofelt, its haptics system raises the bar to provide sensory feedback "to match the high-quality audio and video we're used to in today's devices". The haptic feedback drivers built-into the Razer Nari Ultimate are described as multidimensional with stereo capabilities for enhanced positional awareness. The hapics system doesn't need integration with games titles, for example, and can work across gaming, music, entertainment and movies by analysing the audio signals in real-time.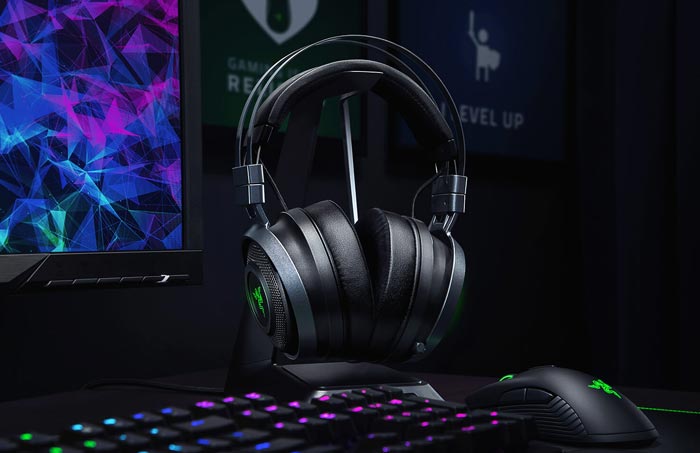 Moving on to other features of the Razer Nari Ultimate, for comfort it has been built with an auto-adjusting headband, swiveling ear cups to fit every head shape, and cooling gel ear cushions. The ear cushions have hidden indented eyewear channels.
Razer leverages its patents portfolio by including THX Spatial Audio, as also featured in the Kraken Tournament Edition. It is explained that THX "creates realistic depth and immersion by simulating 360-degree sound with pinpoint accuracy for greater awareness during gameplay."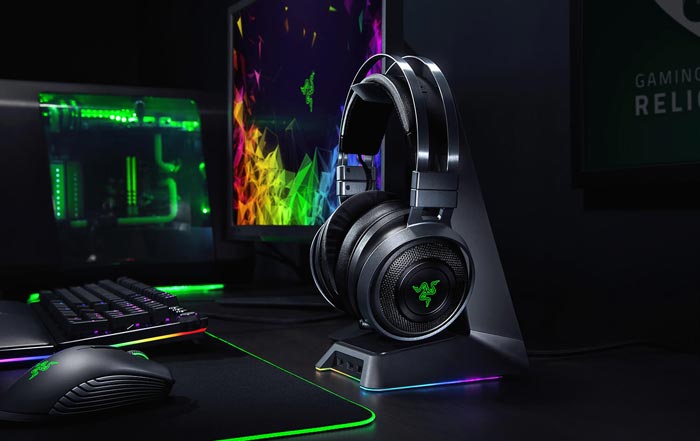 This new wireless headset will run for 8 hours with Razer Chroma lighting and HyperSense on a single charge. Runtime extends to 24 hours without the RGB LEDs and haptic feedback turned on. For more detailed and tech specs of the $199 Razer Nari Ultimate please head on over to the linked official product page which includes key info about the headphone audio, microphone, and so on.
Razer announced three versions of the Nari gaming headset today. The Razer Nari, at $149, omits Razer HyperSense but is otherwise identical to the Ultimate version. The Razer Nari Essential focuses on core wireless gaming headset features with THX Spatial Audio, comfort with an auto adjusting headband, and cooling gel ear cushions and lag-free performance and is priced at $99.99. Razer has provided a Nari headset comparisons page here to make the differences absolutely clear.
Product Availability: Nari: 27th September 2018, Nari Ultimate & Nari Essential: Q4 2018.