Razer has launched a new flagship gaming keyboard featuring its own branded Opto-Mechanical switches. The new gaming keyboard is called the Razer Huntsman Elite and features the new faster and more durable keyswitches plus niceties you would expect such as 10-key rollover, macros, an aluminium top plate, hybrid onboard / cloud storage, and Chroma RGB lighting effects and sync. Razer has also launched a standard Huntsman keyboard which shares all the key features of the Elite but misses out on; a magnetic wrist rest, a multi-function digital dial and media keys, and an underglow feature powered by Razer Chroma.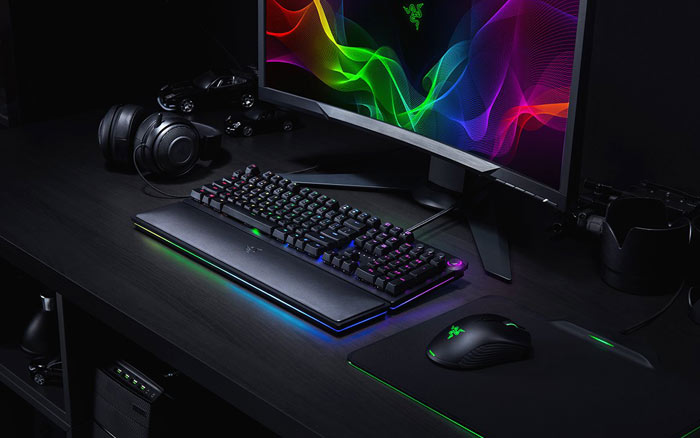 The news behind the pair of new keyboards is all about the switching tech employed. Naturally the Razer CEO has something to say on the new development. "We have amassed years of experience developing and manufacturing our very own Razer Mechanical Switches designed specifically for gamers," said Razer CEO and Co-Founder Min-Liang Tan. "This focused expertise has now expanded upon our brand's legacy with the new Razer Opto-Mechanical Switch that delivers an all-new level of performance that is optimized for top-tier eSports competition."
Inside Razer's opto-mechanical switch the key's actuation relies upon an IR light beam being broken as the key is pressed. Despite being new technology it makes key construction simpler than traditional mechanical keys and they don't have some of the physical characteristics that are a problem of the traditional mechanical switch design.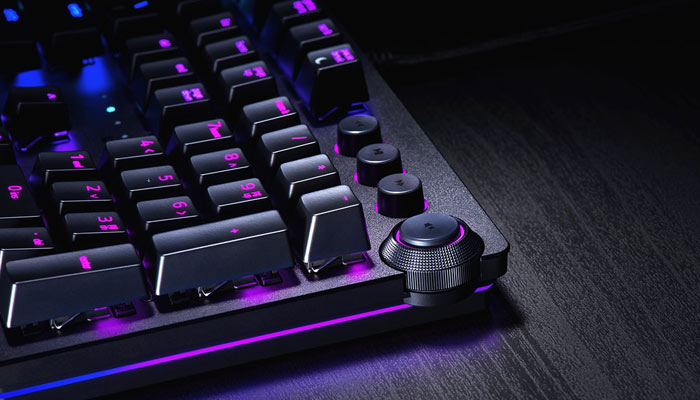 Specifically, the Razer Opto-mechanical switch has a 1.5mm actuation point, which Razer says allows it to be 30 per cent faster to press than traditional clicky switches. The actuation force is set at a light 45g, and these switches offer a similar tactile feel to the Razer Green switches (no other choices at this time). The keys are rated for up to 100 million keystrokes, doubling that of traditional mechanical switches, and the feel should be more consistent over time, says Razer. Another feature is the inclusion of a metal key stabilizer bar fitted around each switch, not just around the larger switches like you see on regular mechanical keyboards.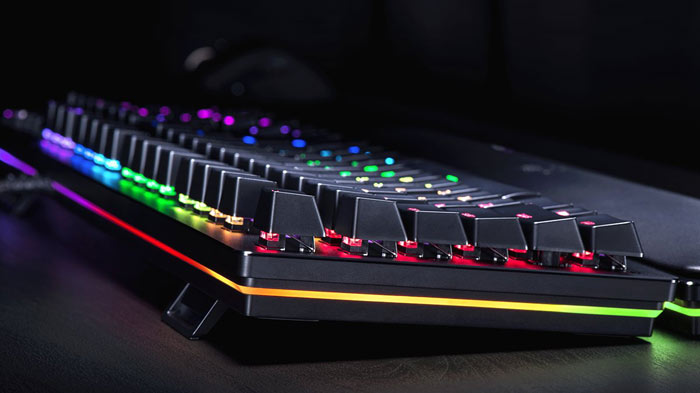 The Razer Huntsman Elite and the regular version are $200 and $150 respectively. Probably the biggest attraction of the Elite model is the dial. This can be used to quickly adjust brightness, volume, and more options via the Synapse 3 software. It is accompanied by dedicated media keys. Meanwhile the regular huntsman user will have to rely on function key modifiers for media and brightness control. If you would like to have a matching detachable leatherette wrist rest - that's another reason to opt for the Elite model.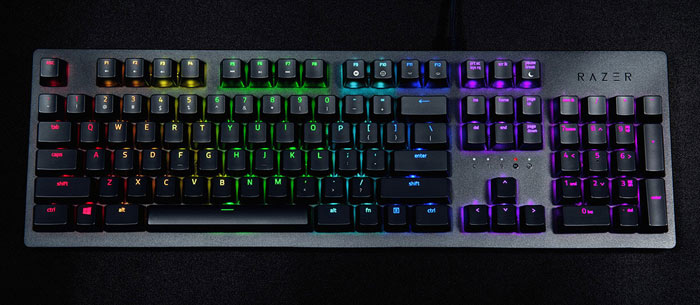 The regular Razer Huntsman