HEXUS first saw the Roccat Horde Aimo RGB gaming keyboard back at CES 2018. This is another of the Aimo RGB range of peripherals, originally expected to arrive before the end of January. Today Roccat emailed HEXUS to say that it's 'Membranical' gaming optimised keyboard is finally available in retail.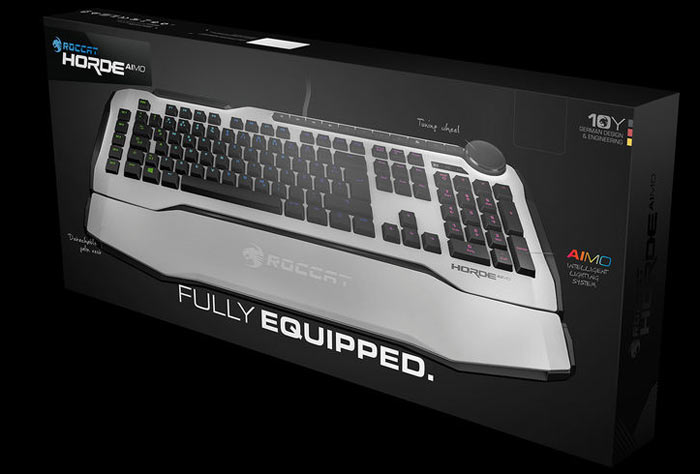 Roccat says that its Membranical keys are much more accurate with regard to actuation point, than other rubber dome keys on the market. It claims that this is a "best of both worlds between standard and mechanical keyboards," thanks to its precise, responsive nature and fast yet silent response.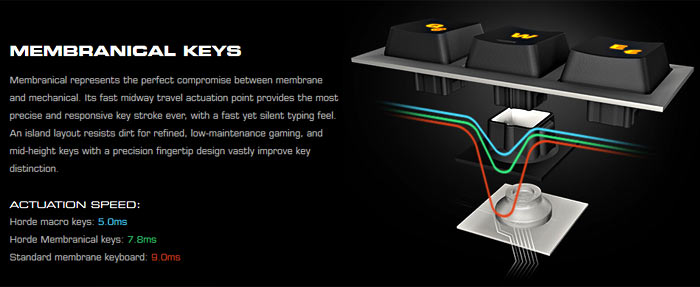 A tuning wheel is present on the Roccat Horde Aimo, sitting alongside an array of media keys. The wheel can be configured to provide fast intuitive control of illumination, brightness, dpi, volume and more. Tactile steps can be felt over 260 degrees so you are sure you are adjusting the desired parameter. Interestingly Roccat has made the wheel compatible with Windows 10 Dial functionality.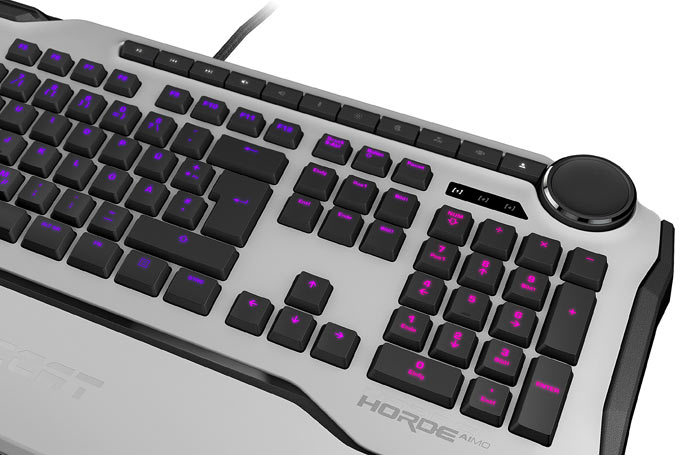 A column of five, low-profile macro keys skirt the Horde Aimo's main key zone, positioned on the left for easy and intuitive execution. Their low profile is meant to avoid accidental presses when you are busy typing, for example.
Roccat's Swarm driver system is behind this new Aimo peripheral. It allows for fine adjustments and customisation of the keyboard preferences, game profiles, macros, and illumination. Roccat Horde Aimo Membranical keyboard tech specs are reproduced below:
ARM Cortex-M0+ 50MHz
512kB onboard memory
1000Hz polling rate
1.2mm actuation point for macro keys
LED driver, 256 steps PWM control
Six-zone illumination with 12 RGB LEDs
Wheel encoder with 20 steps
1.8m braided USB cable
Dimensions / Weight: Weight 1100 g
System requirements: Windows 8, Windows 7, Windows 10 , Internet connection for driver installation, USB 2.0 Port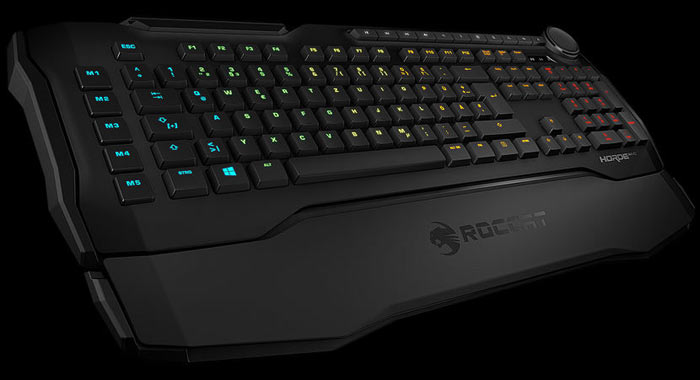 The Roccat Horde Aimo is now available with an RRP of US$99/UK£89.