Sapphire Technology, well known on the HEXUS web pages for its AMD-based graphics cards and related hardware, has launched an array of Thunderbolt 3 and USB-C accessories. In brief it has made available a pair of Thunderbolt 3 dongles with 2x DisplayPort 1.2 or HDMI 2.0 connectivity, a pair of USB-C to HDMI or VGA with Power Delivery for simultaneous display output and charging, and a USB-C 4-in-1 Travel Dock for excellent connectivity options and mobility.
It is thought that the new accessories will appeal to both Mac and Windows PC users, especially those that travel with Ultrabook-type portables with their limited port selection.

Sapphire Dual DisplayPort or Dual HDMI dongles
These are designed to simply add extra display connectivity to Ultrabooks. The new Sapphire Thunderbolt 3 to DisplayPort 1.2 can power 2x 4K DP displays or a single 5K display (all at 60Hz). A similar product comes can power up to 2x 4K at 60Hz.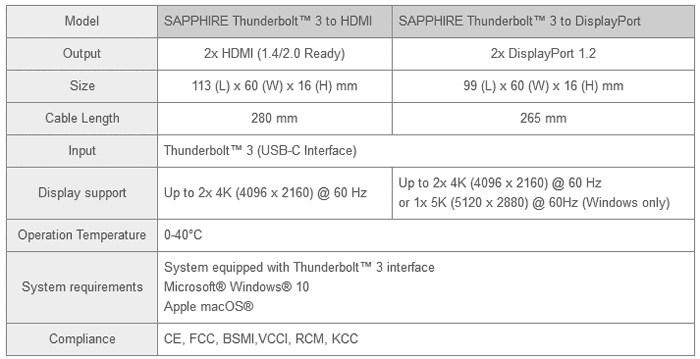 Sapphire USB-C to HDMI or VGA display dongles with Power Delivery Charging
Sapphire more diplomatically explains "often only a single USB-C port is available on the thinnest of ultrabooks, forcing the user to choose between powering the device or connecting a peripheral," but we know where the finger points. The MacBook, which Apple saw fit to include just a single USB type-C port - even though it is also the charging port for the machine, suffers from this very fate.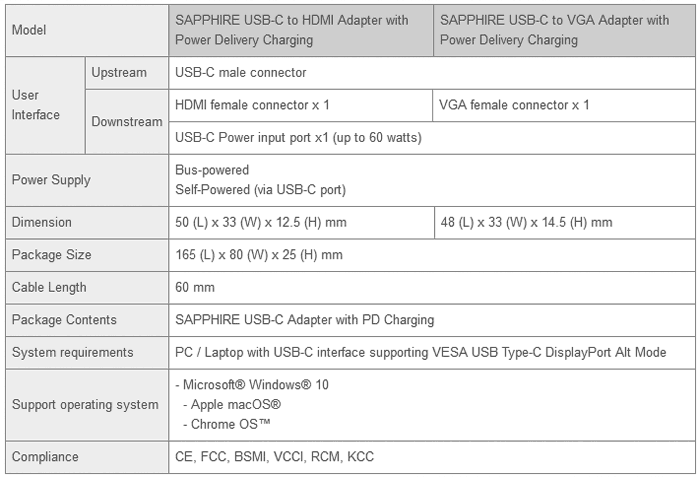 Two such adapters have been made by Sapphire; one with an HDMI female connector and one with a VGA female connector. They both sport a single USB-C Power input port (up to 60 watts). This device works with Windows, Mac, and ChromeOS.
Sapphire USB-C 4-in-1 Travel Dock
Probably the most expansive new product announced is this USB-C 4-in-1 Travel Dock. Users connect this to their Windows Mac or Chrome OS computer to get the benefit of HDMI or VGA output (one at a time), USB 3.0 Type-A and Type-C (inc 60W power delivery) ports, and Ethernet. It is bus powered via its USB Type-C connection to your computer via a 100mm cable. The product measurements are: 122 (L) x 44.5 (W) x 20 (H) mm.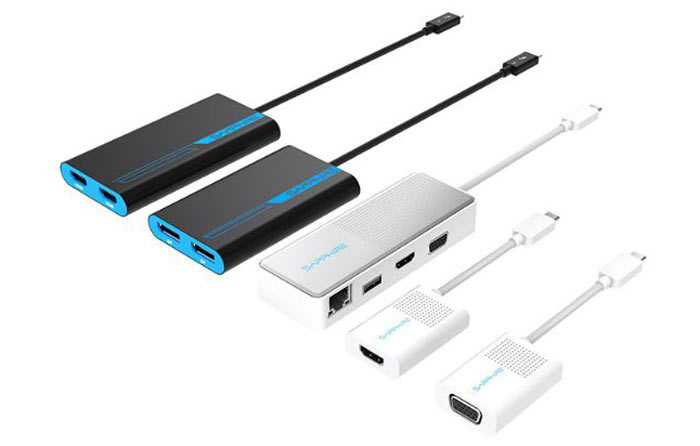 All the above products are shipping now, says Sapphire. Prices are as bullet pointed below.
Sapphire Thunderbolt 3 to Dual HDMI Active - $109
Sapphire Thunderbolt 3 to Dual DisplayPort Active - $119
USB-C 4-in-1 Travel Dock – $79
USB-C to HDMI with Power Delivery Charging – $39
USB-C to VGA with Power Delivery Charging – $39