A new Apple patent application has been unearthed, showing possible expansive plans for its 'Pencil' stylus. The patent was spotted by Dutch site TechTastic (via Engadget) and describes a 'Content Creation Using Electronic Input Device on Non-electronic Surfaces'. This input device doesn't need a dedicated sensor packing surface as it contains various motion and pressure sensors, and is monitored by external cameras and sensors.
The current Apple Pencil only works with a subset of iOS devices, the iPad Pro tablets. With the latest iPad Pro tablets, released back in June, the Pencil became even more responsive (20ms) thanks to the new high refresh rate 'ProMotion' screens equipped. Apple might be considering expanding the platforms that can use its Pencil after customer feedback and considering the competition. Remember that Apple Mac computers still have quite a hold in various design niches where styli may be popular.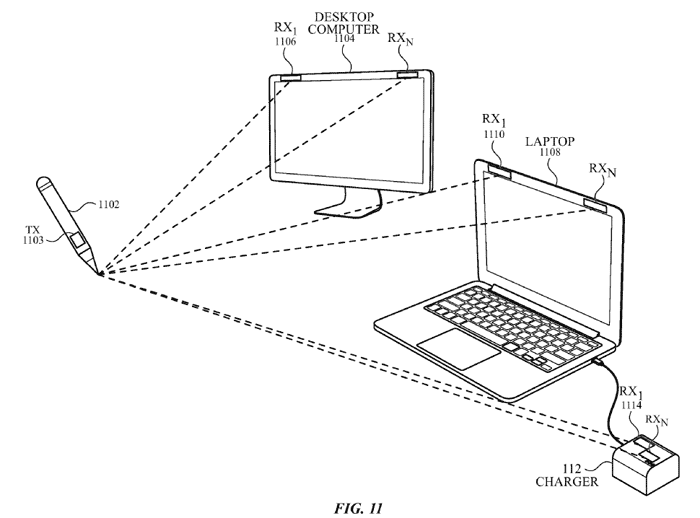 Looking more closely at the patent, filed last July, the new Pencil could sport very wide support within the Apple ecosystem: not only tablets, but computers, watches, phones, and iPods are shown in the drawings. Probably the most illuminating drawing though, is FIG.11, above. Here you can see the motion and pressure sensitive Pencil being monitored by various computer and office located sensors – perhaps these are camera-based like Leap Motion, or MS Kinect systems.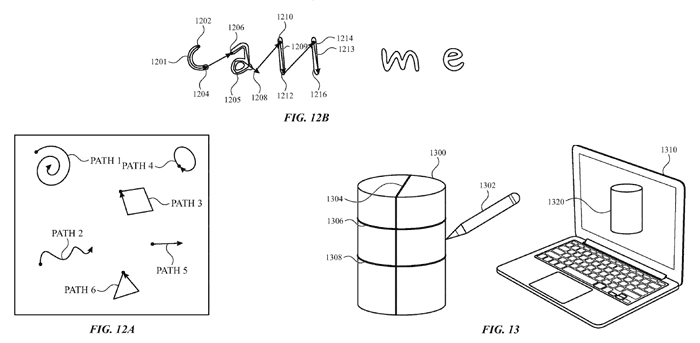 As usual, we need to keep in mind that a patent isn't even a statement of intent to develop or produce a device, we may never see or hear of this adaptable multi-platform new Apple Pencil again.