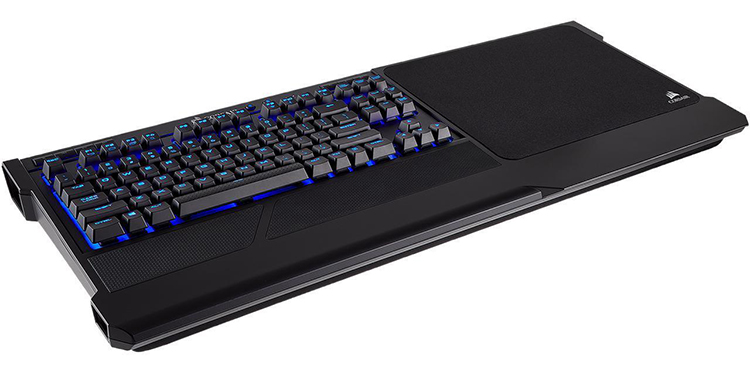 Corsair has unveiled its strategy for wireless gaming peripherals. The launch, announced at CES, centres on the K63 wireless keyboard, K63 wireless laptop, Dark Core RGB and RGB SE mouse, and MM1000 wireless mouse mat.
K63 Wireless Keyboard
Let's go in order. The K63 is a tenkeyless keyboard featuring Cherry MX Red switches, has adjustable lighting that is limited to blue (due to an RGB model chewing through too much juice), and a detachable memory foam wrist rest. That's pretty much standard fare for a mainstream gaming keyboard.
What sets it apart from the usual crowd is support for 1ms (transmission) wireless over the 2.4GHz WiFi spectrum, over a range of approximately 10m. There's built-in support for 128-bit AES encryption, too, which adds about 80ms of latency, and it can be switched off within the CUE software.
The built-in, non-replaceable battery is reckoned to be good for 15 hours of per-charge usage at the shipping 66 per cent backlight brightness, extending to 25 hours if dropped down to 33 per cent and to 10 hours at 100 per cent - both extra settings are toggled by a button at the top, situated next to a light that can show approximate charge.
We found the lowest setting to be sufficient for a good effect. Should no lighting be used, the K63 can go up to 75 hours without the need to charge. Corsair says the battery is good for 300 charge cycles whilst keeping 85 per cent of its original capacity.
K63 also has a Bluetooth v4.2 low-energy mode. It's not as good for lag-free gaming due to 7.5ms latency, and if you find yourself totally stuck wirelessly, Corsair bundles in a USB cord. The K63 wireless is due in retail later this month priced at £99 or so, and we're informed that Dixons has the UK exclusive for the first three months.
K63 Wireless Lapboard
Remember the Corsair Lapdog? That was Corsair's first attempt at a living-room keyboard, though it was heavily compromised by having to use a thick cable.
The lapboard is an altogether a better product. Ostensibly a plastic surround for the K63 Wireless, clipping in takes a few seconds. Plenty of cushioning makes it comfortable on the lap whilst the weight is relatively even. An integrated mouse pad - sadly only available on the right: sorry left handers - works well when we had a play. Priced at £50 or so, with a £10 discount if bought at the same time as the K63 Wireless keyboard, it too will be available at the end of this month.
Dark Core RGB (SE) mouse
Next on the wireless wagon is the all-new Dark Core mouse. It uses a Pixart 3367 sensor that is, in this guise, custom to Corsair for the time being. A maximum 16,000dpi is adjustable in 1MHz steps.
The three-zone RGB looks decent and the mouse fits well into the hand thanks to swappable grips. The mouse uses the same three-way connectivity - 1ms wireless, Bluetooth 4.2 LE, corded - and is said to be good for 24 hours of usage from a full charge.
A second model, identified as SE, features Qi charging for an additional £10 over the Dark Core's £75 base price.
MM1000 Mouse Pad
Rounding out the wireless ensemble is Qi-compatible MM1000 pad. The charging section is located in the upper-right corner and is good enough to provide 7W of power for any Qi-compliant device. There are adapters for various connectors, so all phones ought to be covered. £75 is the asking fee.