HS50 Stereo Gaming Headset
Corsair has launched a new gaming headset. The new Corsair HS50 Stereo Gaming Headset features aluminium construction, adjustable memory foam earcups, subtle stitching accents, and specially tuned 50mm neodymium speaker drivers. Buyers can be assured that the HS50 is compatible with PC (via included Y-cable adapter), PS4, Xbox One or phone, and comes with an optimized unidirectional (detachable) microphone.
For convenience the HS50 Stereo Gaming Headset features on ear controls for volume (volume adjustment wheel) and mute (toggle switch). Corsair claims the headset is rugged yet light and comfortable for wearing during long periods. A two year warranty backs up the durability claim.

Corsair has already listed the HS50 Stereo Gaming Headset, available in green, blue, or carbon, in its web shop but all versions seem to be out of stock here in the UK. Pricing varies between £55 and £60.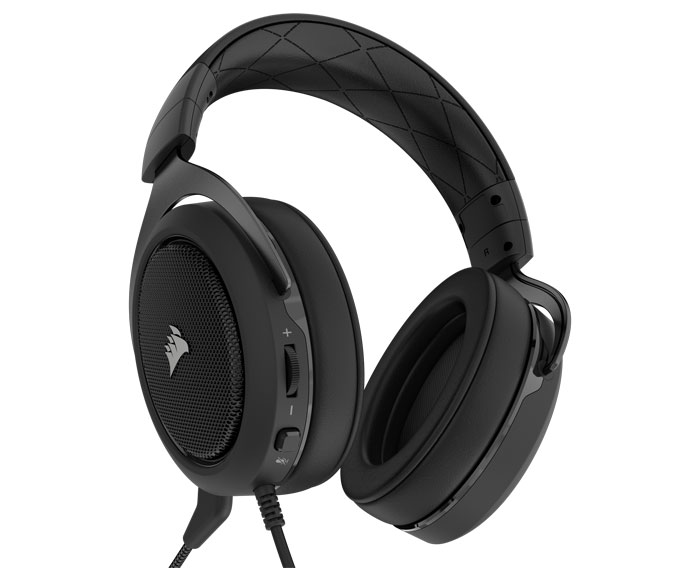 Corsair ML PRO RGB fans
Back in summer 2016 Corsair launched its new ML series fans. The ML series came equipped with magnetic levitation bearings, said to "dramatically cut down on friction" when the fans are spinning. The first fans of the ML series did come with optional LEDs but they were single colour and you had to choose first of all whether you wanted to pay extra for the lighting and then pick from red, white, or blue.
Today Corsair has launched the ML PRO RGB fans in 120mm and 140mm sizes. As per the previous ML models magnetic levitation fan bearings are at the heart of the functionality on offer. Add to this the custom designed fan rotor, low-noise tuned PWM control range, and the quietness that combo offers - even at full pelt.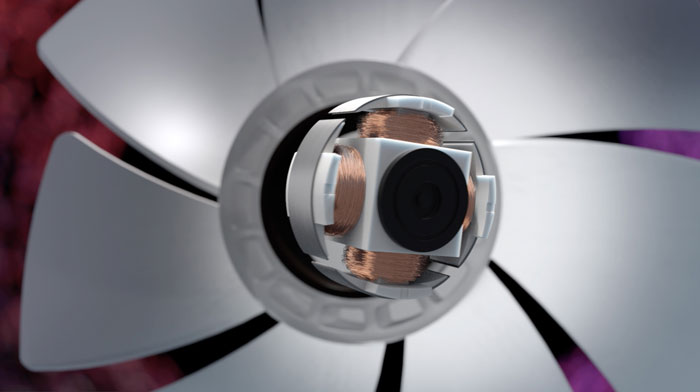 Colour options are "near limitless" claims Corsair, for those who like to tinker with such settings using the Corsair Link software. The new fans are sold individually or in multi-packs. The advantage of a multipack is that Corsair includes a Fan LED Hub and Lighting Node PRO for deeper customisation and linking for up to six fans. Among the colour lighting effects you can wield there you will be able to tie the LED colour to component temperature, for example.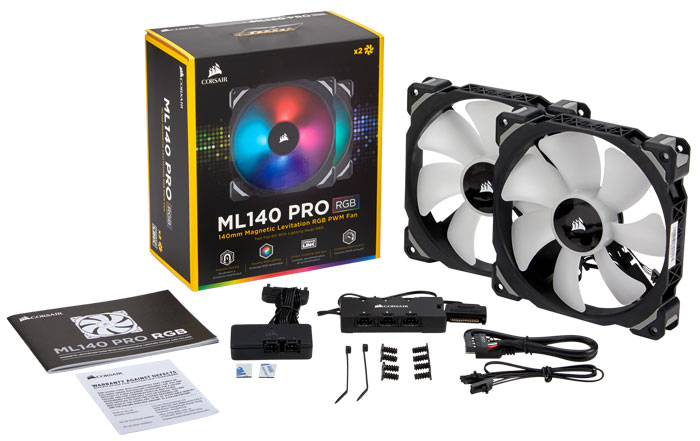 The Corsair ML PRO RGB fans come with five year warranties and are available now via the Corsair web store. Prices range from £24.99 to £89.99 depending on fan size and pack size. Again, they all seem to be out of stock in the UK at the time of writing.