HTC has decided to cut the price of the HTC Vive HMD kit to $599 / £599. Up until now the HTC Vive had been sold for $799, a noticeable premium over its competition, in a kit containing the HMD, two motion controllers, and two base stations for tracking.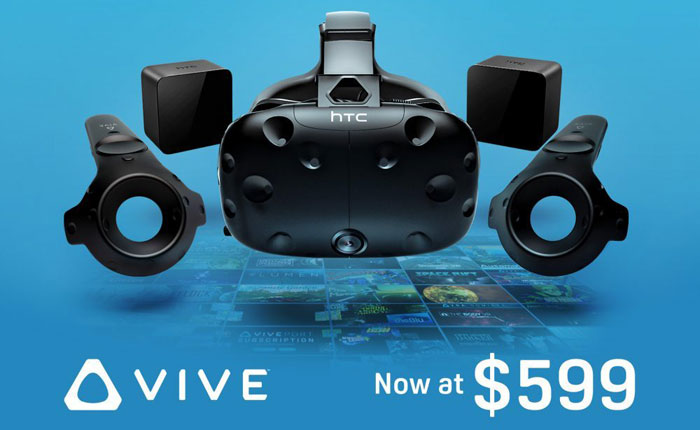 The rival PC-based Oculus Rift HMD VR system is currently attracting new VR explorers with its 'Summer of Rift' promotion. Facebook/Oculus is selling the Rift +Touch bundle for $399 / £399 for a limited time, after which it will rise to $499 / £499. That sale started on 10th July but has is supposed to be a limited sale, "while stocks last" so it's hard to know when it will end.

Back to the HTC offer, and the $200 cheaper Vive will include extra value with a free Viveport Subscription trial, where consumers can choose up to 5 titles per month to experience. There are currently 200+ VR titles in Viveport with Fallout 4 VR, Doom VFR on the way.
HTC seems confident that its VR system is worth a premium compared to rivals and often refers to itself as the global leader in high-end VR, and its Vive HMD as the superior and most complete VR system available.
If you think HTC's pricing adjustment might be a reaction to the price changes in the Oculus camp, you are wrong, according to Dan O'Brien, General Manager for HTC Vive in the Americas. In an interview with UploadVR the GM said that "As we come into Q3 and Q4, we are lowering the price to $599 permanently… We plan out our pricing and margins and life cycle planning a year plus in advance," so it's nothing to do with Oculus...
The VR HMD market leader isn't PC based at all, most market analysts consider the most popular device to be the Sony PSVR PS4-powered headset. As we head towards Xmas and New Year Microsoft looks set to make a serious entry to the market too, with a wireless VR headset for the Xbox One X, and partners releasing mixed reality headsets.