Global gaming lifestyle brand Razer has launched a new tenkeyless gaming keyboard. The new compact design is called the BlackWidow Tournament Edition Chroma V2 and it is aimed at competitive and eSports gamers.
Razer has a particular claim for this new gaming keyboard - that it introduces a new Instant Trigger Technology (ITT), "enabling the industry's fastest response rate for a gaming keyboard." We don't get much of an explanation of ITT, just some marketing mumbo-jumbo as follows "Upon actuation, the new Razer Instant Trigger Technology (ITT) immediately sends the signal to your system, cancelling any need for a debounce delay. Thanks to this instantaneous response, you get industry-leading speed for an unfair advantage no matter what game you're playing." One wonders why rival keyboard makers didn't consider cancelling the 'debounce delay'.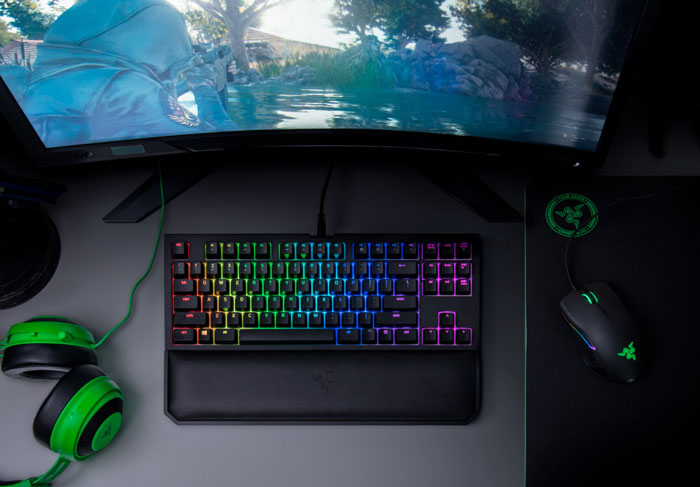 The new Razer BlackWidow Tournament Edition Chroma V2 will be purchasable with your choice of Razer mechanical Green, Orange or Yellow switches. As a reminder, the Greens are tactile and clicky, the orange switches tactile and silent, and the yellows are linear and silent. You can check the keyswitch specs fully here, they are all rated for 80 million keystrokes and their actuation points and feel are tuned for gaming over traditional typing activity. Razer boss Min-Liang Tan wrote that the ITT technology works particularly well with Yellow switches.
As you can see in the pictures the Razer BlackWidow Tournament Edition Chroma V2 keyboard comes with a detachable wrist rest and RGB illumination. The wrist rest is said to be ergonomic and magnetically connected. Incidentally the supplied braided USB cable is also detachable. RGB lighting fans will be delighted with the Razer Chroma customisable backlighting with 16.8 million colour options with associated gaming profiles and cross device sync.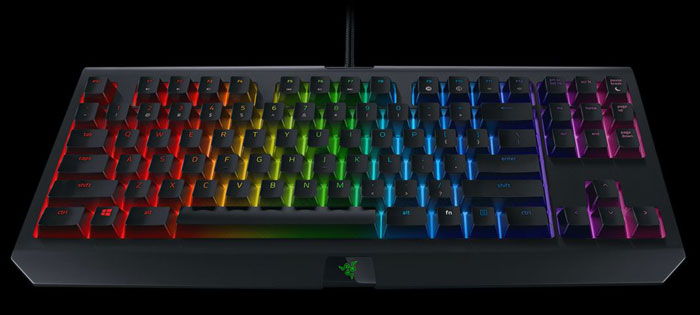 The Razer BlackWidow Tournament Edition Chroma V2 is priced at US$139.99 / EU €149.99, and available now at Razerzone.com, with distribution to retailers worldwide starting later this month.
Product features:
Razer Mechanical Switches with 50 g actuation force (Green)
Razer Mechanical Switches with 45 g actuation force (Orange / Yellow)
80 million keystroke life span
Detachable braided USB cable
Razer Chroma customizable backlighting with 16.8 million colour options
Ergonomic magnetic and detachable wrist rest
New Instant Trigger Technology
Inter-device synchronization