Microsoft has quietly launched the Modern Keyboard with Fingerprint ID ($129.99) and the Modern Mouse ($49.99). The products are listed in the Microsoft US Store as "coming soon" but I couldn't find them in the UK store at the time of writing.

The new Microsoft Modern Keyboard with Fingerprint ID is built with an aluminium frame to make it slim, yet strong. Microsoft calls it a "virtually indestructible" workhorse of a keyboard. The minimal, non-ergonomic design provides a full set of scrabble tile QWERTY keys, directional arrow keys, and a numpad section, with an array of half-height function keys along the top row. That all-important handy Fingerprint ID sensor is embedded where the right hand side Windows key usually resides, between the ALT-GR and the context menu key to the right of the space bar.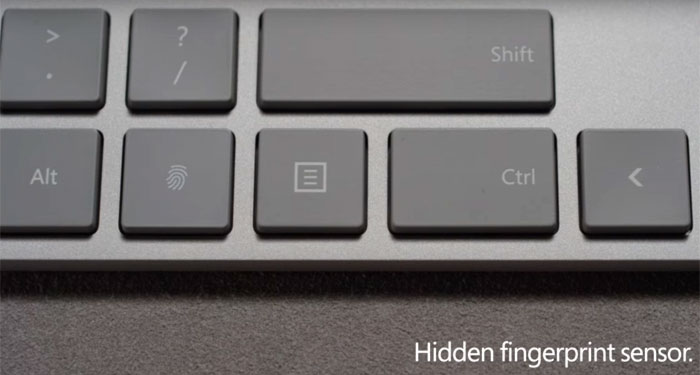 Users can choose to connect their new Microsoft Modern Keyboard with Fingerprint ID via USB or go wireless when they need or feel like. On your first use, connect to your PC via the supplied cable and it will be automatically paired for future subsequent usage in wireless mode. The keyboard is compatible with Bluetooth Low Energy 4.0 / 4.1 / 4.2. Other key specifications are listed below in bullet points.
Wireless frequency: 2.4 GHz frequency range
Wireless range: 33 feet (10 meters) in open air. Up to 17 feet (5 meters) in office environment typical
Compatibility: Windows 10. Device must support Bluetooth 4.0 or higher.
Dimensions: Length: 16.57 inches (420.9 millimetres), Width: 4.43 inches (112.6 millimetres), Height: 0.76 inches (19.3 millimetres)
Weight: 14.58 ounces (413.5 grams)
Battery Type and Quantity: Rechargeable battery (included)
Battery life: Up to 4 months on full charge
Warranty: 1-year limited warranty

Microsoft's latest wireless mouse matches the minimum soft silver styling of the new keyboard. The rodent doesn't have many claims to fame but highlights include; a metal scroll wheel, a refined click response, and highly accurate sensor.

This Bluetooth 4.0 mouse boasts wider compatibility compared to the above keyboard. Windows systems from version 8.0 (including RT) and newer support this pointing peripheral. Microsoft's Modern Mouse measures 4.53 x 2.52 x 1.32 inches (11.5 x 6.4 x 3.35cm) and weighs 3.21 ounces (91g) including the necessary 2x AAA batteries. Users should get 12 months battery life from a pair of alkaline cells, by which time the mouse warranty will have expired too.