MSI and Phanteks 5.25-inch front panel
Just ahead of everyone scooting off for an Xmas break, MSI and Phanteks launched a series of new PC front panel solutions. The first such collaborative device is designed to meld MSI's new GAMING 7 motherboard with the Phanteks Enthoo Elite. This first product "will soon be released" promised MSI.
HEXUS had its first look at the Phanteks Enthoo Elite at Computex this summer. The chassis is a considerable hunk of 4mm thick aluminium and tempered glass with modular options and great expandability - there's even room for two systems in there. Front access for ports and occasional peripheral connection really is a boon to productivity, and with its MSI partnership Phanteks is equipping all the modern I/O ports you might need at the front.

In the hardware photo above you can see a selection of USB ports (plus a Type-C port), HDMI, audio I/O, a physical scroll wheel and LED control. Some ports are marked 'I' or 'II' for allocation to the two possible systems in the roomy Phanteks Enthoo Elite chassis. As the Phanteks Lead Product Designer says, this panel works perfectly with the Elite and MSI GAMING M7. Hopefully follow up products will provide similar front panel controls for owners of other chassis with a spare 5.25-inch bay on the front.
MSI OC Dashboard
In other front mounted hardware controls news from MSI - the company is promoting its "next gen OC champ". In a Facebook post MSI Global pictures an external OC Dashboard which is a natural companion to its XPower GAMING Titanium motherboard.
The hardware dashboard is equipped with various essential +/- OC buttons, toggles, and switches to help you get the most out of your system on-the-fly with a minimum of fuss.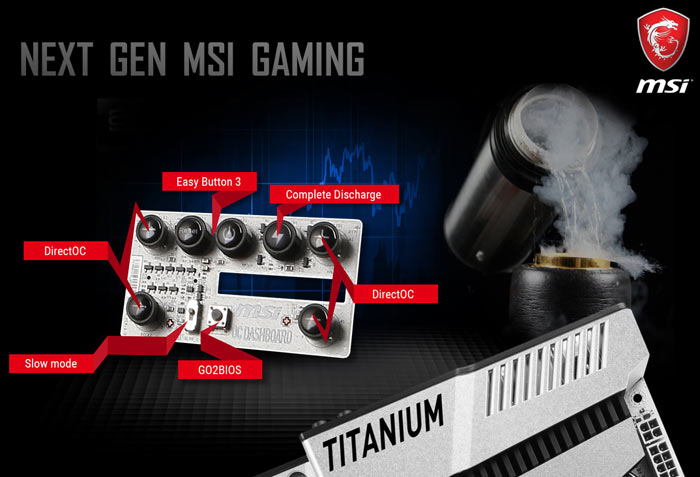 I'm not sure why MSI is highlighting this product now as it has been available in the Z170A Titanium pack for over a year. Perhaps, with the subheading suggesting a 'next-gen' product, it is readying a new XPower Gaming Titanium Edition for Kaby Lake.