Networking hardware company TRENDnet has announced a new wireless router aimed at 'Road Warriors'. The N150 Wireless Travel Router, model TEW-714TRU, aims to supply all the networking needs of the on-the-go professional in a compact and elegant single-unit solution. The TEW-714TRU works as a router or repeater, it also has a USB port for storage sharing and a further USB port for charging your gadgets.
"The TEW-714TRU is designed to meet the needs of the road warrior," said Sonny Su, technology director TRENDnet. "It plugs into outlets on every continent and offers handy USB share and charging ports."
As mentioned in the introduction the TEW-714TRU can share the wired connection in your hotel room, for instance, when working in Router mode. Alternatively, if you have only Wireless internet availability, you can put the TEW-714TRU into Repeater mode and share that internet signal with all the devices you and your friends/colleagues have. This can perhaps facilitate the extension of the wireless into patchy signal areas in your room/suite and also make it simpler for all your devices to log into your Repeater network wherever you travel.

TRENDnet has also equipped the TEW-714TRU with two USB ports. One of the USB ports is dedicated to powering and charging your portable devices. The other USB port allows you to connect a USB storage device or camera and share the data over the network.
N150 Wireless Travel Router TEW-714TRU key specifications:
Networking standards including IEEE 802.11b/g/n (up to 150 Mbps)
1 x USB quick charge port, 1 x USB file share port, 1 x 10/100 Mbps port
On/off power switch, Router/Repeater/WISP mode selection switch
WPS button, Reset button, LED indicator
Interchangeable Power plugs: US, EU, UK
Power: 100 - 240 V AC, Consumption: 2.5 W (Max.)
Dimensions: 81 x 50 x 39 mm (3.2 x 2.0 x 1.5 in.), 120g
Temperature: 0 - 40°C (32 - 104°F), Humidity: Max. 90% non-condensing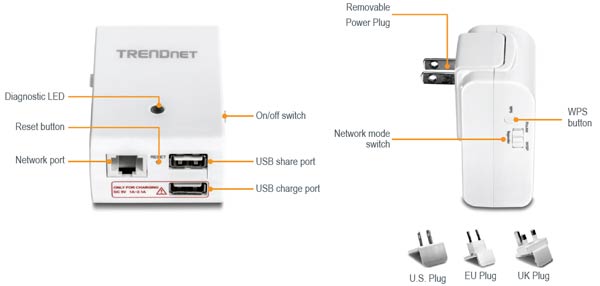 The TRENDnet TEW-714TRU will be made available this month both online and in retail with a recommended retail price of $59.99. The product carries a 3 year warranty. HEXUS reviewed the TP-LINK WR702N 150Mbps Wireless N Nano Router just under a year ago, which offers a subset of the TEW-714TRU's portable functionality. If the TP Link Nano Router has enough functionality for you it can be had for around half the price of this new TRENDnet device.