A research team at Singapore's Nanyang Technological University (NTU) and A*STAR Institute for Infocomm Research (I²R) have created a revolutionary new high speed wireless technology. The new VIRTUS chipset can transfer data at 2 gigabits/s with only low power requirements making it a contender for Bluetooth replacement in smart connected devices such as tablets and smartphones. This transfer speed would enable a user to transfer an 8GB DVD in 30 seconds.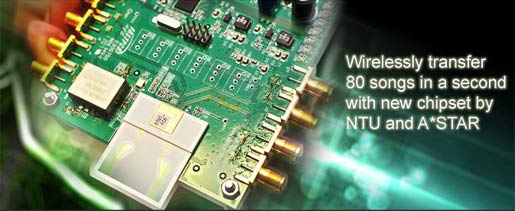 The technology behind the VIRTUS chipset is a microchip that transmits data in large packets using millimetre-waves. There are 3 components to the chipset; an antenna, a transceiver (developed by NTU) and a baseband processor (developed by I²R). The chipset runs at 60GHz and NTU in collaboration with I²R are the first to be able to demonstrate these components working together in a low power configuration technology demonstration – HD video streaming between devices.
Professor Yeo Kiat Seng of NTU said "This ground-breaking mm-wave integrated circuit (IC) technology will have significant commercial impact, enabling a wide range of new applications such as wireless display, mobile-distributed computing, live high-definition video streaming, real-time interactive multi-user gaming, and more". Indeed the chipset isn't just a lab experiment; they have protected the tech with 16 international patents and devices using VIRTUS chipsets will be showcased at Computex in Taiwan next month.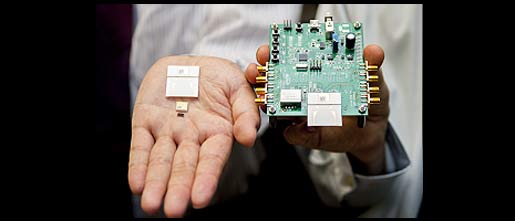 The technology sounds compelling as a fast and low power replacement for Bluetooth in our portable computing devices. Explaining the development thrust Prof Yeo said "The demand for ultra high-speed wireless connectivity has fuelled the need for faster data transfer rates. Unfortunately, current technologies are unable to meet these stringent demands. The NTU-I2R team, being at the cutting edge of research and development, has successfully demonstrated an integrated 60GHz chipset for multi-gigabits per second wireless transmission." The team compare this VIRTUS technology to Bluetooth in their press release implying a similar limited distance/range of transmission. Radio frequencies at 60 GHz are attenuated quickly by air and will probably completely blocked by some solid objects. Looking at the above pictures of the device I just wonder how small the VIRTUS components can be made, hopefully at least as small as the current Bluetooth components.