For most users, a router is just a router, and - provided it gets you connected - it can go unnoticed is most consumer setups. D-Link, however, disagrees, and its now-shipping DIR-685 proves that a router can be more.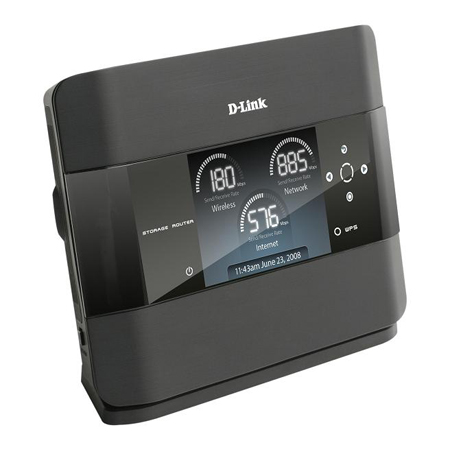 The unit, pictured above, provides the features you'd expect to find in a typical 802.11n Wireless router, and mixes in a whole lot more.
At first glance, it already looks more impressive than your average bit of networking kit - thanks largely to the use of internal antennas and a 3.2in LCD display adorning the DIR-685's front face. Said display can be used to show photos - making it something of a glorified photo frame - or useful information such as connection speed, weather or RSS feeds, all configured via D-Link's management software.
Extending functionality further, the DIR-685 - also known as the "Xtreme N Storage Router" - has room to take a slot-loaded 2.5in SATA hard drive. The drive will need to be provided by the user, but plug one in and you'll turn the router into a network-attached storage solution. It'll support UPnP server functions, and can be used for BitTorrent downloads or as an FTP server.
Want more? Then you'll be pleased to hear that the router also features a pair of USB ports that make use of D-Link's SharePort technology - allowing for multiple users to share USB devices such as printers or external hard drives.
How well it handles individual functions remains to be seen, but it's looking like an impressive space-saving all-in-one solution. Just a shame it doesn't incorporate a built-in ADSL modem.
The DIR-685 is available exclusively from Play.com priced at £194.99.