D-Link today announced its ambition to go green and reduce the energy usage of its home Wi-Fi routers.
The first two products to incorporate D-Links eco-friendly "Green Ethernet technology" are the Wireless N Gigabit Router (DIR-655) and the new Wireless N Quad Band Gigabit Router (DIR-855).
So, how do they work, and more importantly, how can they help cut our electricity bills?
Well, it's all quite simple really. The D-Link Green Ethernet function is said to automatically detect connectivity status and cable length, and then adjust power accordingly. For wireless users, there's a Wi-Fi scheduler which provides a user-selectable radio shutdown option (adjustable by day and start/end times).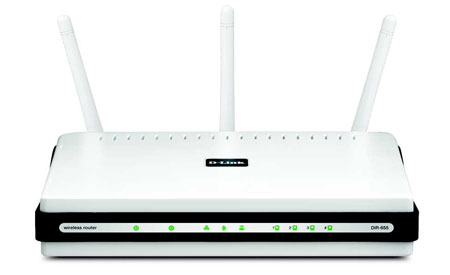 With no active Ethernet links and Wi-Fi turned off, D-Link states that the DIR-655 (pictured) and DIR-855 can benefit from power savings as large as 32 per cent and 41 per cent, respectively.
Andrew Mulholland, marketing manager at D-Link, said:
D-Link is proud to be taking the lead in integrating innovative, power-saving technology into its home and business networking solutions that doesn't sacrifice performance or functionality. By offering green upgrades to our most popular Wi-Fi routers, we're helping protect the environment whilst our customers save money in the process.
If you've already purchased the DIR-655 or DIR-855 and don't have the power-saving options available, you can take advantage of these new features via the green firmware release available at www.dlink.co.uk/support.
Now that D-Link has set an example, we'd anticipate that other Wi-Fi router manufacturers will follow suit with "green" firmware upgrades of their own.
Official press release: D-LINK PIONEERS GREEN HOME WI-FI