Asus has unveiled the VG245H Gaming Monitor. Taking a different tack from the usual, Asus seems to be targeting console gamers with this new 24-inch, full HD, TN panel monitor. Headline features of the VG245H include; a 1ms response time, dual HDMI ports, and an ergonomic stand, FreeSync/Adaptive Sync technology with up to 75Hz refresh rate, and various Asus exclusive gaming technologies.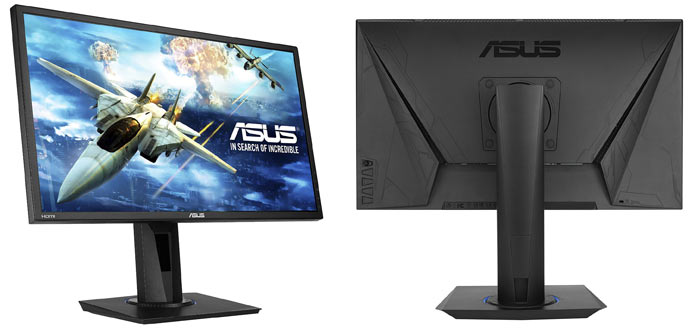 This non-glare coated monitor's fast response time is enhanced by 'GameFast Input Technology', says Asus. This is a technology designed to reduce input lag, so gamers can better keep up to speed with the action. The 75Hz maximum refresh rate is said to be a step up from what most domestic TV screens offer.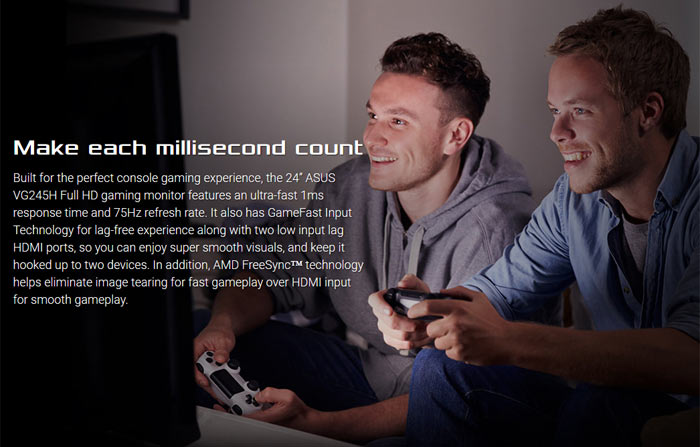 Asus GamePlus technology, GameVisual technology, Flicker-Free technology, and Ultra-Low Blue Light technology also all feature in this monitor. Asus Gameplus is a hotkey system that provides various screen overlays such as crosshairs, timers and FPS counters. Asus Gamevisual consists of six preset display settings tuned for different content and games types (Scenery / Racing / Cinema / RTS / RPG / FPS / sRGB Modes). Eye-health friendly flicker free, and low blue light features are self explanatory features.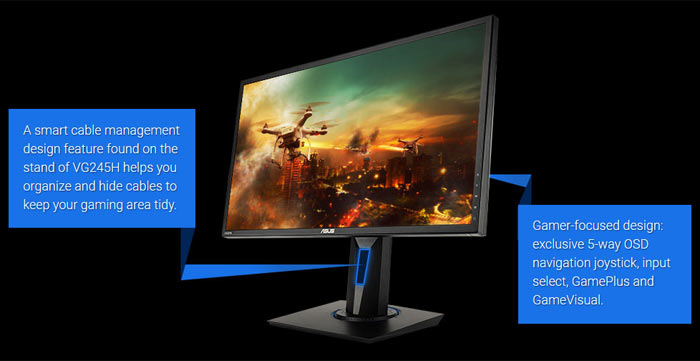 Currently FreeSync/Adaptive Sync technology only works with suitably equipped PCs. Via this tech the new Asus monitor can adjust the refresh rate between 40 and 75Hz for smooth, tear-free gaming experiences. Asus seems to think users will plug in a combination of games console, TV box, and PC/laptop to the VG245H. However, it also includes a VGA D-Sub port. For audio functionality this monitor offers stereo (2x 2W) speakers and has 3.5mm in and out ports.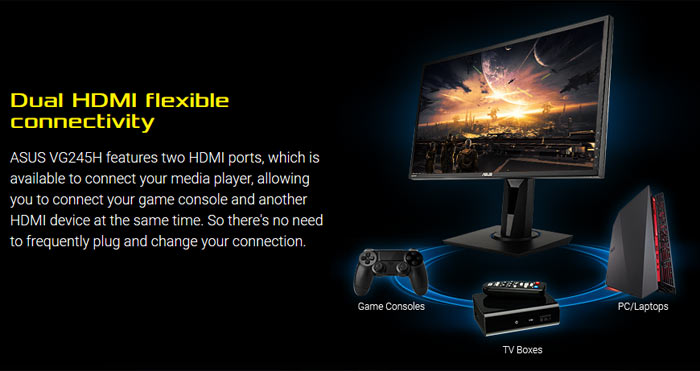 Asus's stand is quite flexible, offering Tilt : +33°~-5°, Swivel : -90°~+90°, Pivot : +90°~-90°, and Height Adjustment : 0~130 mm. If that doesn't suit, this 5.1Kg screen can be VESA (100 x 100mm) mounted to an alternative stand or wall mount.
This monitor is for sale right now in the US, priced at $189.99 on Amazon.