The EIZO FORIS FS2735 Gaming Monitor was announced a couple of months ago at GamesCom but we are still waiting for it to become available (it is due to ship "this winter"). In the meantime an eagle eyed forum member over on Linus TechTips has spotted an intriguing feature unique to this 27-inch 2560 x 1440 res IPS monitor: users can set it to operate in one of two FreeSync modes.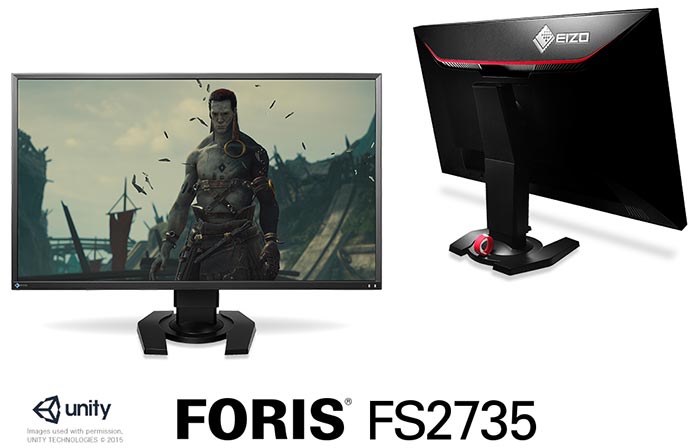 You can read plenty of details about the spec on offer with the EIZO FORIS FS2735 on the official product page. However to find out about its FreeSync range switching you have to flip through the user manual (PDF) to page 41, where you will find the following key piece of information for FreeSync compatible graphics car owners.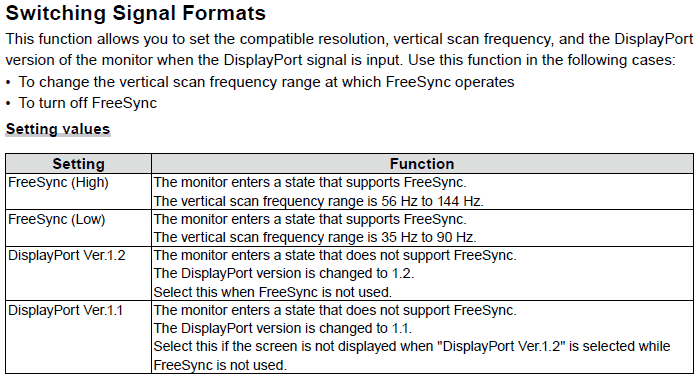 As you can see above, the monitor allows you to set your preference to FreeSync Low or FreeSync High. FreeSync Low offers 35Hz to 90Hz refresh rates, FreeSync High offers 56Hz to 144Hz refresh rates. Those bracketed ranges should cover quite a lot of user setups very nicely. The lower range on offer from the EIZO delves 5Hz lower than the comparable (but TN panel equipped) Asus MG278Q, reviewed earlier this year.
Now it's a good time to recap the other attractive features on offer from the EIZO FORIS FS2735 Gaming Monitor. I've constructed a bullet point list of all the other key features of this monitor:
Screen: 27-inch WQHD (2560 x 1440 pixels) LED backlit IPS Screen
Colours: 16.77 million colours, 256 grey tones
Brightness: 350 cd/m2
Contrast ratio: 1000:1
Response time: 4ms grey to grey
I/O: PC: DisplayPort (with HDCP), DVI-D 24 pin (with HDCP), PC / AV: HDMI (with HDCP) x 2, 2-port USB 3.0 hub
Audio: 1W stereo speakers, 3.5 mm stereo jack in, 3.5 mm headphone jack
Power consumption: 33W to 87W and 0.5W in standby
Weight (with stand): 7.1Kg (4.6Kg)
Stand adjustments: 155mm height, 90° pivot, 35° Up or 5° Down tilt – or use your own 100mm VESA mount
Warranty: five years, plus zero bright pixel 6-month guarantee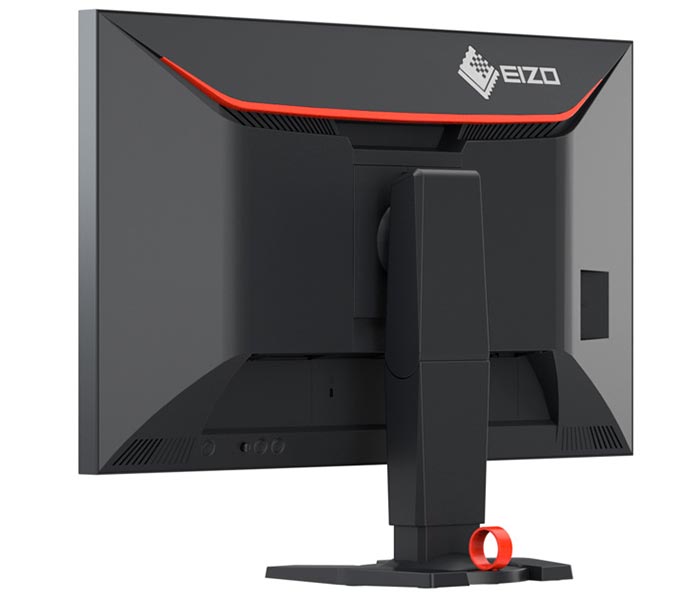 As befits a modern gaming monitor EIZO has equipped the FORIS FS2735 with the following important features; gaming visibility tech including 'Smart Insight Demolition', G-Ignition mobile app game colour adjustments with cloud profile support and 'pro gamer' profiles, smartphone notifications on your monitor screen border, motion blur reduction, flicker free, auto brightness, low blue light modes.
As mentioned in the intro we are still waiting for the EIZO FORIS FS2735 to ship. Pricing is yet to be revealed.